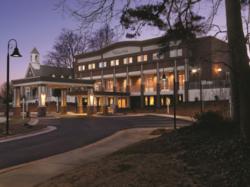 WhiteStone's expansion and renovation is meeting the higher demands and expectations of today's seniors who are seeking more choice, access and value.
Greensboro, North Carolina (PRWEB) June 11, 2013
WhiteStone, North Carolina's first senior living community, set a new bar in senior living in the Greensboro area and the results are paying off. The community recently completed a $30 million expansion, which incorporated the latest in senior living design trends and amenities. As a result, WhiteStone has blown away the 36-month occupancy goal that is the industry standard to achieve 90%+ sold and an 85% occupancy rate in less than one year.
In addition, Whitestone has been recognized for demonstrating the latest trends in senior living design with two design excellence awards from the National Association of Home Builders, including the 2012 "Best of 50+ Senior Housing" Silver Award and the 2011 "Long-Term Living Best in Class" Award.
Meeting Higher Demands
In the senior living industry, WhiteStone's renovation and expansion have positioned the community as a model in meeting the higher demands that are forging new trends in senior living. Through careful research and a thoughtful approach to its renovation and expansion, Whitestone is now able to offer high-end amenities at competitive, middle-market prices.
WhiteStone's sales success is due to its close attention to the changing priorities seniors are demanding:

Multiple services amenities onsite, including multiple dining venues (vs. one "dining hall")
Health and wellness activities and programs (pool, cardio equipment, fitness trainers, massage, clinic)
Interactive spaces that encourages socialization and hobbies
Natural lighting and easy access to outdoors, walking trails and green space
In addition, long before WhiteStone began its renovation and expansion, a critical factor to seniors was already in place: Continuing care. Within the Continuing Care Retirement Community (CCRC) concept, WhiteStone residents are able to transition to and from independent living to assisted or in-home care services —or even skilled care from a nurse temporarily (after surgery) or long term.
Whitestone's design team drew on national research, as well as internal research, to expand and renovate the property to meet critical factors to today's seniors:
Factors Important to People Considering a CCRC Lifestyle for Their Own Future
Cost and value 99% (70%-Very important/29%-Important)
Reputation of owner 98% (73%-Very important/25%-Important)
Availability of heath care onsite if needed 97% (65%-Very important/32%-Important)
Services and amenities onsite 97% (46%-Very important/51%-Important)
Location of the community 95% (52%-Very important/43%-Important)
Availability of outside activities (walking trail, etc.) 95% (52%-Very important/43%-Important)
Ability to participate in fitness activities 91% (43%-Very important/48%-Important)
Ability to pursue hobbies or other interests 91% (40%-Very important/51%-Important)
Source: Mather LifeWays Institute on Aging, Ziegler, and Brecht Associates, National Survey of Family members of Residents Living in CCRC's, December 2011
Important Factors in Choosing a Senior Living Community (167 WhiteStone residents interviewed)
Maintenance-free living: 70.10%
Assured access to health care: 67.10%
Personal security: 59.90%
Convenient location: 55.10%
Amenities/services: 50.90%
Wellness programs: 46.10%
Friends/camaraderie: 40.70%
Source: Zillner, Whitestone Questionnaire, 2012
Living in a CCRC Addresses the Top Interests among AARP Members Age 70 and Older
Staying mentally sharp
Staying physically fit
Maintaining a healthy diet
Spending time with family and friends
Source: AARP, Member Opinion Survey, 2012
Transformation Overview
WhiteStone's 40,000 square-foot expansion features 46 newly built independent living apartments, totaling 81,390 square feet, ranging from 844 square feet for a one-bedroom to 1,299 square feet for a two-bedroom with sunroom. Residences meet the new demands for natural light and spacious closets with the latest kitchen and bathroom amenities.
Located at the heart of the 42-acre WhiteStone campus, the newly renovated Linville Clubhouse includes 12,000 square feet of renovated space and 4,820 square feet of new space. In all, there is 39,157 square feet of renovated or new common spaces. WhiteStone's design team completed extensive renovations and expansions to meet the latest trends in senior living, including new:
Indoor and outdoor dining venues offering cook-to-order menu
Coffee bistro with fresh baked goods
Sports pub with 360-degree glass walls
Spa offering manicures, pedicures and massage therapy
Woodworking and arts & crafts room
Convenience store
Fitness and aquatic centers offering classes and personal fitness staff
Five-star health care clinic
Multiple garden plots for growing vegetables and flowers
"As a senior living pioneer, WhiteStone remains committed to leading the way in Greensboro," said Mark Kolada, WhiteStone's executive director. "Our expansion and renovation is meeting the higher demands and expectations of today's seniors who are seeking more choice, access and value."
The architect on WhiteStone's expansion was AG Architecture, a Wisconsin-based firm with 40+ years of experience in innovative senior living design. Interiors were handled by Spellman Brady & Company based in St. Louis, Mo., a nationally recognized interior planning and design firm that specializes in health care, higher education and senior living.
About WhiteStone
Founded in 1912 as a Masonic & Eastern Star Community in the heart of Greensboro, North Carolina, WhiteStone is open to all seniors desiring an active lifestyle. As the first retirement community in North Carolina, WhiteStone has a long-standing reputation for outstanding wellness and continuing care. Now completing an extensive expansion and redevelopment within its established community, WhiteStone is an attractive, fun, growing community for seniors. For a personal tour, contact Lorri Yaskiewicz, WhiteStone's director of marketing, at 336-547-2929. To learn more, visit http://www.LiveatWhiteStone.org.
About Life Care Services, management company for WhiteStone:
For more than four decades, Life Care Services has been the nation's leading and most progressive force in senior living, serving more than 28,000 residents daily in over 80 communities nationwide. Life Care Services is a privately held, employee-owned corporation based in Des Moines, Iowa. For more information, visit http://www.LCSnet.com and http://www.lifecareserviceslcs.com.
###