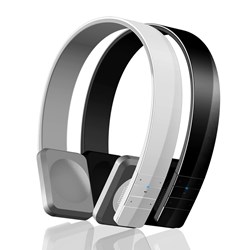 New York, NY (PRWEB) June 11, 2013
RokitBoost, the premier electronic accessories company, is pleased to announce the launch of its all new SWAGE bluetooth headsets. These new headsets are revolutionary, providing high quality playback, and compatibility with all major appliances, such as iPads, iPhones, iPods, and any other bluetooth compatible devices. These new headsets are not only comfortable/lightweight, they also include noise suppression technology. With 6-8 hours of battery life, these headsets rank highest in duration.
Details:
Compatible with iPad, iPhone, iPod and any Bluetooth enabled device
High quality stereo music playback
Support bluetooth V2.1+EDR
Extra compact design
Special multi-function button design for easy operation
6 to 8 hours playback time
Color: White
1 Year Limited Warranty
For a limited time, RokitBoost is giving free samples of its new SWAGE bluetooth headset to qualified guest bloggers. All guest bloggers are invited to visit RokitBoost.com and request a complimentary RokitBoost SWAGE bluetooth headset. After reviewing the SWAGE bluetooth headset, guest bloggers may keep it.
About RokitBoost
RokitBoost is a tech company, focusing on improving electronic devices. Whether it be an iPhone charger case, Bluetooth headphones, or a wireless bluetooth speaker/microphone, our products focus on improving existing technologies. We believe in great customer service, great prices, and above all else - great quality products.