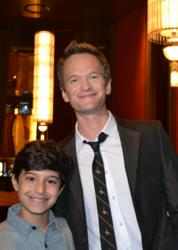 New York, NY (PRWEB) June 12, 2013
CityKid, an 11-year-old reporter for the tween video site, KidzVuz.com, was the first-ever kid reporter allowed on the Tony Awards Red Carpet and backstage at rehearsals this week at Radio City Music Hall.
Top tween site KidzVuz, a kind of YouTube meets Yelp for kids 7 – 12, is the first fully COPPA compliant, safe and moderated tween opinion website and app where kids can create, post, view, share and comment on video reviews of everything from movies and Broadway shows to travel, toys and books.
The Tony Awards recently partnered with KidzVuz to share exclusive video and content for tweens and teens as part of its new "Totally Tonys" interactive online programming for families. As part of that initiative, two star KidzVuz reporters, CityKid and MusicFreak 101 (age 10), got the opportunity of a lifetime when they went behind the scenes at the 67th annual Tony Awards to interview host Neil Patrick Harris, the cast of Pippin and Tony Award winners Billy Porter ("Kinky Boots"), Patina Miller ("Pippin"), "Glee" star Jane Lynch (currently starring as Miss Hannigan in "Annie"), Broadway legend Bernadette Peters and many more. Red carpet and backstage interviews can be found at http://www.KidzVuz.com.
Check out a few soundbites from CityKid and MusicFreak101's interviews with Neil Patrick Harris, and Jane Lynch.
Neil Patrick Harris:
City Kid: This year, we have two really bad babysitters on Broadway -- Mrs. Trunchbull and Miss Hannigan. Who would you rather babysit Harper and Gideon?
Neil: That's a great question. I feel like Miss Hannigan would be a bit more abusive. Trunchbull would be mean, no doubt but that voice is so funny. I think it might be fun to listen to her so I say Trunchbull.
City Kid: Well I'm available if you want and I'm very responsible and nice.
Jane Lynch, Miss Hannigan, Annie
City Kid: Do you have another Broadway dream role?
Jane: Gosh, does Broadway need one more Momma Rose, I don't know. But someday I'd love to play Momma Rose from Gypsy.
You can watch all of the videos from backstage and the red carpet on KidzVuz.com.
ABOUT KIDZVUZ
KidzVuz is videos by kids for kids. The first and only COPPA-compliant platform exclusively for user-generated kid video reviews, KidzVuz lets kids 7-13 have their say in a safe, monitored space. Launched in 2011 by two NYC Mompreneurs, the KidzVuz award winning website and iOs app empower tweens to create and share videos about the things they love, including books, movies, theater, fashion, travel, tech, toys and more. KidzVuz reporters cover movie premieres, Broadway openings, and exclusive events, lending a unique kid perspective to the media landscape.
KidzVuz has been featured in the Wall Street Journal as a top site for tweens, Teachers First as an educational resource, and was named a best new site of 2011 by Cool Mom Picks. The KidzVuz app was named by EW.com as one of the Top Ten Apps for Kids of 2012. For more information, visit: http://www.kidzvuz.com.
###