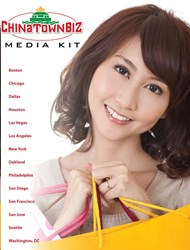 Washington, D.C. (PRWEB) June 11, 2013
http://www.Chinatownbiz.com currently operates as an online coupon shopping guide for all users and linking 14 American Chinatown cities; Boston, Chicago, Dallas, Houston, Las Vegas, Los Angeles, New York, Oakland, Philadelphia, San Diego, San Francisco, San Jose, Seattle, and Washington, DC.
ChinaTownBiz.com is updated daily to ensure that its visitors have the most current tabs on their favorite sale items, news, and personal information. Social media will include; Facebook, Twitter, You Tube, etc.
ChinaTownBiz.com goal is to become one of the leading provider of Chinatown B2C coupon based shopping services and information over the Internet.
ChinaTownBiz.com products & services make shopping easy to locate, browse, and buy from local businesses. In short, ChinaTownBiz.com will offer and distribute, fine quality products and services, safe, quickly & cost effectively for Internet users.
ChinaTownBiz.com use traditional media outlets such as, broadcast television, cable television, print, radio, direct mail, etc. to increase awareness and drive traffic to the new site.
Jchen(at)chinatownbiz(dot)com