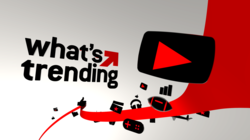 We are excited to once again collaborate with the world's number one technology brand, Samsung, to help the next generation of technologists.
New York, NY (PRWEB) June 11, 2013
Today, What's Trending, the Emmy-Nominated live interactive show on YouTube, teams up with Samsung as the official live stream partner for their 12th Annual Hope For Children Gala in New York City. Viewers can tune in to the red carpet show hosted by Shira Lazar on YouTube from 5:30-7pm ET at http://youtube.com/whatstrending.
Hope for Children is Samsung's ongoing philanthropic commitment to help children live smarter, healthier and more sustainable lives. Through Hope for Children, Samsung works with its U.S. retailer partners and dedicated network of charitable organizations associated with renowned public figures.
Past celebrity attendance has included John Legend, Jennifer Lopez, Dan Marino, Demi Moore, Jason Mraz, Regis Philbin, and more. Samsung and What's Trending have previously collaborated at huge live tent pole events such as SXSW and CES.
This year, viewers and fans can watch the red carpet action and ask questions live to attendees with the #Hope4Children. Celebs attending include Chelsea Clinton, Boomer Esiason, Drew Brees, John Legend, Jimmie Johnson, Estelle, Sherri Sheperd, Albie & Chris Manzo, Chris Noth, Nina Garcia, Jersey Shore's Vinny Guadagnino, Tracy Morgan, Stephen Baldwin and many more!
"At What's Trending, we're incredibly passionate about using our platform to make a difference and there is no better cause than helping children," said Damon Berger, CEO of What's Trending. "We are excited to once again collaborate with the world's number one technology brand, Samsung, to help the next generation of technologists."
Samsung has also launched a contest prior to the event with professional baseball player Mark Texiera, fashion designer and stylist Rachael Zoe as well as YouTube stars Destorm and iJustine who are donating their services to the cause, engaging their communities and competing for $25,000 to be donated to their charity of choose (sample links below).
Destorm: http://youtu.be/hImNkNvQDzI
iJustine: http://www.youtube.com/watch?v=1z6jsQMntDc&feature=em-uploademail)
Livestream link for the red carpet:
http://bit.ly/h4cwt
# # #
ABOUT WHAT'S TRENDING
Hosted by Shira Lazar, What's Trending is an Emmy-nominated, live, interactive talk show that airs daily on YouTube at http://www.youtube.com/whatstrending. The show spotlights the videos and content creators that make for the most watched content on the platform. The show features guests and performances from celebrities, media influencers and YouTube stars. It is also a 24/7 news hub, covering and curating the most shared videos on YouTube that are being shared across the social web. "What's Trending" is produced by Shira Lazar and Damon Berger. Stay connected and join the conversation by following the show on twitter @whatstrending.