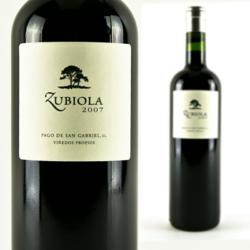 Vienna, VA (PRWEB) June 11, 2013
Classe Wines is rolling out its special reserves of limited edition of Zubiola 2007 Lote #1. This beautiful country is located on the Iberian Peninsula neighboring France and Andorra on the North and Portugal to the west. Spanish coastlines touch the Atlantic Ocean and the Mediterranean Sea. The combination of geographic location, rich soil, and Atlantic winds are the best contributors to sexy aromas of Zubiola.
Classe Wines is privileged to negotiate the limited number of bottles from the Northeastern corner of Spain, the land called Navarre. This region is known for its long and dry summers. Like in most European countries, the winter season in Spain is very cold. Coupled with a low annual rainfall and sandy soil, the region of Navarro produces high yields of premium quality wine grapes. Wine connoisseurs describe the grapes of this region as dark and black fruits with flowery and graphite texture. The winemaker Pago San Gabriel is an exceptional continuation of this wine making tradition.
This particular wine, Zubiola 2007 Pago De San Gabriel, is known as the Bordeaux of Spain. It is a blend of 20 percent red Merlot grapes combined with 80 percent of Cabernet Sauvignon grapes. The tradition requires that the wine age for a total of 11 months in a French oak for the initial part of the aging process. At the second stage, the wine is transferred into a Russian oak to finish the aging process. When confluent, Zubiola expresses ruby red color that is also known as black purple. Apart from the aroma, the taste of this wine is lightly sweet, with a reminder of red fruits such as raspberries and cherry with a touch of mustard seed.
Whether you are planning a wedding or just friends gathering for a dinner, this Spanish wine will definitely lighten your evening. Classe Wines is proud to present you this wine at our lowest price range for $29.95, and limited edition of Lot 1 2007 Pago de San Gabriel Zubiola is for $149.95 per bottle. On case orders, Classe Wines offers 3 percent discount.
Contact
Georgiy Kharchenko
1-800-793-9141