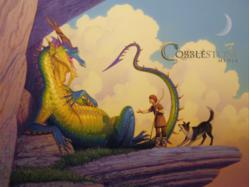 The stronger their imagination is, the more they will love the experience of reading!
Vancouver, B.C., Canada (PRWEB) June 11, 2013
CEO of Cobblestone Media, Chris Derochie, is on a quest to get kids interested in reading again. He created Cobblestone Media to produce a series of electronic books that are accessible to children of all ages. Books that are designed to improve the reader's imaginative skills, which he believes will make reading a more enjoyable experience for them.
As a father of four boys, Derochie has experienced the difficulty of trying to encourage his children to read. He has a strong love of reading and assumed that love would naturally translate to his children. He discovered that their enjoyment of reading was directly related to their ability to imagine and visualize. The sons with the strongest imagination enjoyed reading while the son with the least developed visualization skills quickly lost interest in books.
"As my sons grew up, I noticed a huge difference in the amount of visual entertainment that they were exposed to compared to when I was growing up," said Derochie. "Sure, we had television and movies, but they have internet videos and games on top of that and they're exposed to it all day - they can even bring it around with them on their phones!"
Derochie has observed that for a child to really enjoy a book, they need to have a well developed imagination. "When you read a book, you have to imagine everything that you read - every setting, the look, voice and movement of every character, even the emotional atmosphere. Imagination is more than just seeing the visual look in your head, it involves using all of your senses in an environment that you invent for yourself. For that reason, someone with a poorly developed imagination is not going to experience a book as enjoyably as someone with a highly developed imagination. In short, the stronger their imagination is, the more they will love the experience of reading!"
Derochie has been in the film industry for close to 30 years and he has been a teacher of high level animation for over a decade. He has spent the past 12 years distilling the knowledge he has gained into a book on advanced animation techniques. One core principle that he drills into his students is that movies and most other forms of visual entertainment are meant to be the vision of a single person - the director. However, Derochie believes that this can cause a problem with the development of imagination in a child. "Essentially, visual entertainment can hijack a child's imagination," said Derochie. "Everything about the setting, characters and the emotional environment is served up for them, so they don't have much of an opportunity to use their imagination to create the world for themselves. If they re-enact moments from their favourite movies, it seems to be more of a memory exercise than leaps of pure creativity."
With their new electronic book apps, Cobblestone Media hopes to help children develop their imagination by letting them use their creativity with some well planned assistance. "I see the development of imagination to be very similar to developing physical fitness. Your imagination is like a muscle - the more you use it, the stronger it gets," said Derochie. "Our books have a small amount of high quality classical animation on every page that bring one event to life. This should be enough for the reader to get an idea of how the characters act, sound and behave, so they can use this information to visualize the rest of the events on the page."
Rather than pursue venture capital, Cobblestone will fund their project with donations from friends, family and everyday people through the crowdfunding website, Indiegogo.com. "Crowdfunding is a relatively new phenomenon that allows artists to create the work that they love in a way that would have been impossible to fund through traditional means," said Derochie. "I'm reaching out to friends, family, co-workers and former students through Indiegogo and hoping that they will spread the word to their own networks."
The first story that Cobblestone is producing is the classic tale of The Reluctant Dragon by Kenneth Grahame. Their app contains a version for young readers, middle school children and the original text for advanced readers and young adults.
The painted illustrations by Den Beauvais are reminiscent of the classic ladybird fairy tale books from the 1960's. They are detailed enough to appeal to older readers yet retain warmth and heart to appeal to younger children.
Cobblestone will be donating a percentage of all the money that they raise from their Indiegogo campaign and from the sales of their books to charities that support juvenile literacy.
Find out more about Cobblestone Media's animated books and their Indiegogo campaign at the following links: