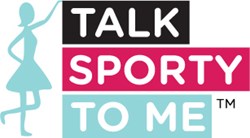 Seattle, Washington (PRWEB) June 11, 2013
Do You Speak Sports?
According to veteran sportscaster Jen Mueller, you should, because sports is the language of business. That thought sparked the creation of her new book, Game Time: Learn to Talk Sports in 5 Minutes a Day for Business.
According to Mueller, it's the relationship building aspect of sports that counts most in business, not learning the rules, calculating stats or memorizing team rosters.
"When you learn how to talk sports for business, you become a game changer. A person who can more easily connect with others and a person who can quickly build relationships that lead to business," Mueller says. "Until Game Time, there wasn't a resource available that laid out a step-by-step process on becoming a fan and using that fandom at work."
"Game Time is a practical resource for anyone in a corporate setting looking to build business relationships. Jen gives clear and concise steps to initiate conversations with sports-loving colleagues, in a way that pays off big in business," said Sharlyne Jones, an HR professional at Unico Properties.
Designed to be a go-to resource for novice and first-time fans, Mueller outlines where to start in choosing a team or sport to follow, gives practical steps for building sports knowledge in just a few minutes a day, explains how to read a box score and provides conversation examples throughout the book.
How does she know? Mueller is both a veteran sports broadcaster and a business owner. She's spent 13 years in sports broadcasting and currently works on the Seattle Mariners TV broadcasts and serves as the Seattle Seahawks sideline radio reporter. She uses her background in sports to take the guesswork out of how to become a fan and shows readers how to get a foot in the door using sports conversations.
Game Time is available as an eBook at Amazon.com.
About Talk Sporty To Me
Jen Mueller launched Talk Sporty to Me in 2009 after identifying a communication void in business that can be filled with sports conversations. Talk Sporty To Me provides a practical game plan to becoming a sports fan for business. The techniques and insights help business professionals understand how to use sports knowledge to engage in productive conversations, build relationships and generate business opportunities.
About the Author:
Jen Mueller, America's Expert Talker, is rarely at a loss for words. She pursued a career in sports broadcasting after repeated remarks of "talks too much" from teachers and family members. In addition to her role with Talk Sporty to Me, Jen is a reporter and producer for ROOT Sports in Seattle. She is seen on Seattle Mariners pre and post game shows, as well as, on the sidelines of college football and basketball games. She is also a member of the Seattle Seahawks radio broadcasting team, serving as their sideline reporter since 2009. Jen graduated from Southern Methodist University in 2000 with degrees in Broadcasting Journalism and Public Policy.