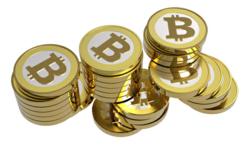 The procedure of trading bitcoins includes two fundamental steps; buy Bitcoins and sell them
London, UK (PRWEB) June 12, 2013
ForexMinute, a renowned Forex news portal now helps traders and brokers trade bitcoins. Bitcoins can be considered an equivalent of Internet cash where users can send Bitcoins over the Internet directly to anyone with no middle man or a governing central authority. In fact, Bitcoins are traded worldwide and the transactions are irreversible like cash.
The procedure of trading bitcoins includes two fundamental steps; buy Bitcoins and sell them. When buying Bitcoins a buy order is executed partially or in full so that the price bid can be matched against a sell order that is at or below the bid amount. Similarly, while selling Bitcoin a sell order is executed partially or in full, so the price asked can be matched against a buy order that is at or above the ask amount.
A representative while discussing Bitcoin trading stated, "The successful rise of bitcoin reflects in its exchange rate (BTC v/s USD), which is up by about +235,000 % in a monthly average of +60%. Bitcoin, today, has surpassed almost every financial asset over the past year, beating stocks, gold, silver, etc. amongst others."
As per Mt.Gox, the world's most established Bitcoin exchange entry of a "buy" order is allowed even if the account has insufficient funds. In fact, Mt.Gox executes a portion of the order even if it can be partially funded. If a deposit is credited later, it resolves the insufficient funds status of an outstanding order; the order will be immediately activated, and if possible, executed.
Above all, users registered at Mt.Gox avail at least two sub-accounts; one for bitcoins (BTC) and the other for the national currency. They can buy Bitcoins from their national currency account and profits from the sale of bitcoins are deposited into the same account. Trading bitcoins with Mt.Gox is easy, reliable, secure and global.
About ForexMinute:
ForexMinute is the world's leading Forex news website, providing investors all the required tools to become a top class Forex trader. The ForexMinute.com team offers global investors an array of resources, including financial news by the minute, fundamental analysis, technical analysis, Forex tools and much more. The aim of ForexMinute is to provide investors the leading Forex education tools, so they can visit their leading Forex portal whenever it suits them.
For more information, visit http://www.forexminute.com or call +1 800 758 5780
You can have the ForexMinute newsletter delivered to you each trading day. Simply sign up today. You will be kept up to date on the latest market action. It's free and simple - http://www.forexminute.com/newsletter.