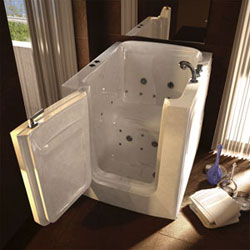 This front entry hydrotherapy walk in bathtub may be a great option when a handicap shower isn't desired.
New York, NY (PRWEB) June 11, 2013
Leading walk in tub and handicap shower supplier, Aging Safely Baths announces hydrotherapy senior bathtubs with front entry configurations. This unique style tub is 32" x 38" and offers another unique size option when replacing a shower with a bathtub.
When considering alternatives for aging in place and fall prevention, one may want to consider the potential benefits of a warm air hydrotherapy walk in bathtub or a wheelchair accessible handicap shower stall. These types of products are specifically designed for the elderly and people with disabilities. They can be found in nursing homes, hospitals, assisted living facilities, long term care centers and can also potentially be installed into a residential home.
It's more and more popular for the elderly to decide to stay in their home versus pay the fees associated with a nursing home or assisted living. Granted sometimes it's necessary for someone to go to a care facility, other times is may be more cost effective and comfortable to modify the home according to ones particular needs.
The front entry walk in bathtub offered still comes with hydrotherapy. Hydro-therapy is used in numerous ways all over the world. A hydrotherapy bath isn't only pleasurable for many people; it can potentially help ease the discomfort of aches and strains among many other possible benefits. Shoppers interested in a hydrotherapy bathtub should consult their family doctor to ensure it's a proper fit.
Bathrooms can be one of the more accident prone rooms in the home. These specialty bathing appliances aren't only for the elderly or people with disabilities. They might also be the right solution for children and adults alike. Who wouldn't want to make their bathroom potentially a little safer? There's no perfect solution to bathroom safety and accidents are always bound to happen. However, with great advancements in bathing technologies customers now have the option to purchase products that have low step in entries, built in 17" seats and safety grab bars.
Despite these products being widely used in commercial facilities such as nursing homes and assisted living facilities, more and more people everyday are installing walk in bathtubs, transfer bathtubs, handicap shower stalls and safety grab bars in their very own homes. Imagine being able to enjoy a hydrotherapy soak anytime desired in the comfort of home.
The company offers potential customers consultations at no cost or obligation. They are a family owned organization and a Better Business Bureau member. Additionally they offer walk in bathtubs and handicap showers with no shipping charges to clients located the continental U.S. Parties interested in a front entry walk in tub are encouraged to contact a representative for detailed information.
Contact Information:
Zachary Wennstedt
1-888-779-BATH(2284)
info(at)Agingsafelybaths(dot)com