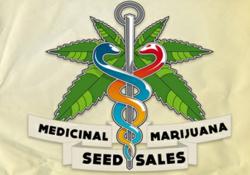 Nevil marijuana seeds have returned and are now available online along with a giant selection of Reeferman Medical Marijuana Seeds at http://medicinalmarijuanaseedssales.co.uk.
Vancouver, British Columbia (PRWEB) June 11, 2013
R.M.S.S., the leading online distributor of Reeferman seeds, is extremely happy to announce the return of Nevil medical marijuana seeds! The brilliant new creations from Nevil are now in stock and ready to ship anywhere in the world.
The legendary Nevil's Haze has fluffy buds, a very long flowering period and delivers an intense rushing high. Nevil's Haze medical marijuana seeds produce a complex aroma that almost smells like a plant other than cannabis. Haze is a strain is an early flowering plant that can be grown both indoors and outdoors and used for many diverse medical applications.
Aside from the return of Nevil, R.M.S.S. is the leading supplier of the popular Reeferman medical weed seeds. Reeferman is known throughout the world for their steadfast commitment top-notch quality and detail, Reeferman Genetics has been able to become a stand out in the rapidly growing crowd of Canadian medical Marijuana Seed Producers. In recent surveys Reeferman has been rated higher than many in the very well known Dutch Cannabis Establishment.
It's no secret that the cannabis gene pool has been in a steady decline over the last 20 years due to rampant inbreeding by inexperienced producers. In fact, some of most well-known and popular cannabis strains are actually just clones of old school marijuana strains that have been passed around Holland (and who the heck knows where else) for more than 25 years. Reeferman Seeds are different. Reeferman focuses on their belief that maintaining diversity in the genetics of cannabis seeds is not only essential but hands down the absolute very best way to ensure the existence of an extremely strong and healthy cannabis lifeline as it progresses into the 21st century and beyond.
In an effort to maintain the necessary diversity, Reeferman Seeds has experimented with several of the most popular cannabis strains that date back to the 1970's , some of which were previously thought to be extinct such as everybody's old favorite Panama Red and the legendary Santa Marta. These land-based strains were collected from their countries of origin including Colombia, Thailand, China, and Vietnam then improved via a series of parental selections before being blended with different purebred strains.
Those interested in purchasing Reeferman medical marijuana seeds from R.M.S.S. can contact them by visiting their website at http://medicinalmarijuanaseedssales.co.uk or by calling them toll free at (855) 425-3437