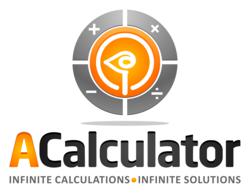 (PRWEB) June 12, 2013
A team of well known financial experts behind acalculator.com, a website that provides free to use online financial calculators, has recently shared their professional and help tips regarding emergency savings. The emergency savings calculator is one of the newly added tools on the website. A large number of people have used the emergency savings calculator on acalculator.com and through websites of clients who have used the calculator on their website.
According to the spokesperson, acalculator.com strives to promote personal saving and budgeting while offering urgent financial help when needed. Emergency savings calculator is not just directed towards people who require immediate help; it is also for users who wish to plan ahead and prepare for the rainy days. Further elaborating the idea, the spokesperson said, "When it comes to savings, most people save for their future plans such as college or home. There are only a few people who prepare for unseen and unexpected circumstances. Such events, even with small financial impact, can actually topple all your plans. And that is exactly what a calculator can help you avoid."
The spokesperson further added that one of the major objectives of acalcualtor.com is to educate people on how they can improve their finances through proper planning and management. For this reason, financial experts who have created the platform share their insightful views, opinions and tips in the blog section. One of the recently published blogs shared details about the importance of using a calculator for emergency savings.
According to the blog, emergency saving calculator helps users get a clear and concise idea of unpredictable prospective expenses. It prepares them to cope with such expenses without putting the house or credit score at stake. "Emergency saving is like an insurance amount. The only difference is that you can access it immediately without the hassle of paper work," the spokesperson added.
Savings is only one aspect of personal finances covered by acalculator.com. The website features more than 300 different calculators for various financial needs including mortgages, taxes, auto loan, credit debt and Insurance, etc. All the calculators are completely free to use. However, the website has also introduced a white label service through which clients can request a customized calculator for their website. The white label service is available for a small subscription fee.
For more information regarding emergency savings calculator and acalculator.com's service, visit the website http://www.acalculator.com.
About acalculator.com
acalculator.com is a newly launched website that offers budgeting and financial calculation tools for free. The website currently features 300 different calculators ranging from mortgage calculator to long term care calculator. The website caters to users from USA, Canada and Australia by providing them essential tools to help them plan their financial future. To contact them, please use the following details:
Contact Details
Web: http://www.acalculator.com
Phone: 123-456-7890