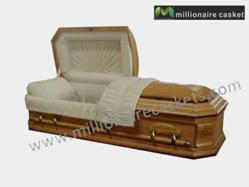 (PRWEB) June 11, 2013
MillionaireCasket.com, a professional China casket company in the field of casket wholesale, has just released its new oak caskets, which come with great discounts. According to Zoe Wong, CEO the company, the promotion will end on June 25, 2013.
MillionaireCasket.com has been in the industry for many years, offering metal caskets, wooden coffins and other funeral products. The new oak caskets are offered in varying sizes which range from infant coffins to extra large caskets. Each one is simple but elegantly upholstered with a pillow, mattress, and elevating bed. With many years of experience in the industry, MillionaireCasket.com promises to provide high quality caskets to clients worldwide with fast delivery.
Zoe Wong, CEO the company, says, "We are extremely excited to release the new designs and launch the special offer to show appreciation to all customers. Our caskets are built to meet or exceed industry standards for strength and size. They are crafted to fit into any standard burial vault. We hope these new caskets can stimulate our business growth in the past few months."
MillionaireCasket.com is a leading China casket manufacturer, and focuses on the business of casket wholesale. This company offers an exquisitely crafted line of all kinds of metal caskets, solid wood caskets, veneer caskets, cremation caskets, rental caskets, orthodox caskets, infant or over-sized caskets and European style coffins. The standard quality control policy is strictly applied here, and a third party quality assurance is also available.
More information can be found at http://www.millionairecasket.com/