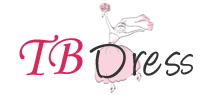 (PRWEB) June 11, 2013
TBdress.com is a leading women's dress company in the world. Recently, the company has released 82 new junior prom dresses to its collection of prom dresses 2013, and announced great discounts, up to 80% off, on all its prom dresses. A senior spokesman for the company expresses that the promotion will end on June 25, 2013.
At the website of TBdress.com, people can click on various pictures, and they will find many new designs of junior prom dresses easily. The junior prom dresses are available in different patterns and styles. They are hand picked for those who love fashion. All the products from TBdress.com have these characteristics: rich choices, fine tailoring and meticulous production. Now, they are available at discounted rates.
The senior spokesman says, "We are excited to introduce our latest prom dresses to our clients worldwide. Our prom dresses are made from natural fabric and with dedicated craftsmanship. We are trying to deliver customers the best prices, selection, and customer service among many competitors."
Moreover, TBdress.com has cooperated with many popular designers who can create good-looking dresses at affordable prices. The company hopes to provide one-stop shopping experience for the ladies worldwide. The company promises to provide customers with the guaranteed-lowest prices on a great selection of prom dresses.
About TBdress.com
TBdress.com is one of the most popular suppliers of women's dresses (wedding dresses, evening dresses, and more). TBdress.com's passion is to provide customers with the best shopping experience so their special days are everything they dreamed.
Their website can be visited at http://www.tbdress.com