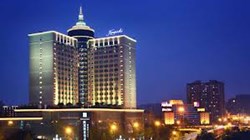 The B2B event organized at the Kempinsky Hotel is the first in China to be entirely dedicated to imported wines
Verona, Italy (PRWEB) June 11, 2013
After four years, Vinitaly International returns to China with an entirely new venture in March 2014: a Vinitaly area dedicated exclusively to Italian wine during a three day B2B event at Kempinsky Hotel in Chengdu, capital of Sichuan Provence.
In its continuing effort to find new ways of penetrating the expanding Chinese market, Vinitaly International has chosen to put aside primary yet saturated business hubs such as Shanghai, Beijing and Guangzhou opting for a second-tier city that is rapidly becoming the most popular investment destination in Western China.
According to China Daily, Chengdu is the only inland Chinese city to appear in the 2011 and 2012 "Annual Top 10 Best Foreign Investment Strategy Cities in Asia and the Pacific Region" published by the Financial Times. In 2012 utilized foreign capital totaled $8.59 billion while Chengdu's GDP reached 813.89 billion Yuan ($130.7 billion), making the inland city the third-largest economy among China's 15 deputy provincial level cities. In the five years following the beginning of the financial crisis Chengdu managed to achieve rapid economic expansion with the city's total trade volume with foreign countries reaching $47.54 billion in 2012, up 25.5 percent compared to the previous year.
Chengdu also plays host to one of the most important food and drink trade shows in China, the Tangjiu Fair (90th edition in March 2014). Vinitaly International will debut at Kempinsky Hotel's principal offsite showcase with a traditional exhibition area and a room dedicated to educational sessions aimed at conveying to Chinese consumers the uniqueness and excellence of Italian wines.
"In the past two years we have been trying hard to acquire a better understanding of how to approach the Chinese market in order to allow Italian producers to increase their export volume without giving them false hopes" says Stevie Kim, managing director of Vinitaly International, who has set China as top priority on her agenda in the past twelve months "We have spoken with key players in the Chinese wine sector and have visited all the most important trade fairs in China. We have noticed that events in Shanghai and in Beijing are already extremely saturated and these trade fairs tend to be known only at a regional level. Chengdu, instead, is the only event to have gained an international reputation: the B2B event organized at the Kempinsky Hotel is the first in China to be entirely dedicated to imported wines. It has proven to be the venue of choice for imported wine business opportunities dedicated to the Chinese wine market".
Vinitaly International's new mission in China will not limit itself to this single event. Stevie Kim is already working on a new collaboration with Chinese e-commerce tycoons such as Alibaba, Yesmywine and Vinehoo which might also result in the organization of a new B2C event next fall, this time in Shanghai.
About:
Veronafiere is the leading organizer of trade shows in Italy including Vinitaly (http://www.vinitaly.com), the largest wine event in the world. The 47th edition of Vinitaly counted some 148,000 visitors (+6%), of which 53.000 were international attendees (+10%) visiting from 120 countries. On 95.000 square meters, 4.200 exhibitors welcomed trade professional, media and producers alike. The next instalment of the fair with take place on 6th-9th April 2014. The premier event to Vinitaly, OperaWine (http://www.OperaWine.it) "Finest Italian Wines: 100 Great Producers" will unite international wine professionals on April 5th 2014 in the heart of Verona. Veronafiere also created Vinitaly International http://www.vinitalytour.com in 1998 to develop a global platform for the promotion of companies in the Italian wine and food sectors.
# # #