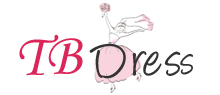 (PRWEB) June 11, 2013
TBdress.com, a leading supplier of women's dresses, has just launched a promotion of cocktail dresses, which covers all the cocktail dresses on its website. According to Edmond Liu, a senior manager of the company, the promotion, up to 80% off, will be valid until June 25, 2013
There are more than 1000 different cocktail dresses in the new collection, and these new dresses come in various designs and styles. As other dresses from TBdress.com, these cocktail outfits have these characteristics: fine tailoring, rich choices, and meticulous production. Now, they are available at discounted rates.
"Many young women like sexy cocktail dresses, and our designs look great on any lady. We promise to provide a one-stop dress solution for young ladies worldwide," says, Edmond Liu. "Customer satisfaction is our goal and we want to see every woman dressed in TBdress.com's outfits."
Moreover, TBdress.com hires popular designers who can create good-looking dresses at affordable rates. The direct approach from factory to consumer allows the company to cut down prices, and avoid unnecessary costs incurred by a third party.
About TBdress.com
TBdress.com is one of the most popular suppliers of women's dresses (trendy wedding dresses, vintage prom dresses, and more). It supplies clothes in more than 230 countries worldwide and owing to its high quality and cheap rates, it is ranked as one of the leading vendors. TBdress.com is ready to help ladies to grab the spotlight with its elegant outfits.
Their website can be visited at http://www.tbdress.com.