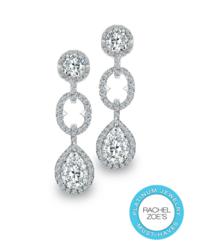 Los Angeles, California (PRWEB) June 11, 2013
Celebrity event planner and style expert Collin Cowie has selected Uneek by Benjamin Javaheri's platinum pink diamond wedding band as one of the ultimate must-have platinum pieces. It's been two years in a row that Uneek's platinum piece has been selected. Last year, Rachel Zoe chose Uneek's platinum earrings as one of her top picks. Uneek's signature style expresses the finest craftsmanship and timeless design in each of their collections. Known for their artful design and intricate detail, it is no wonder that Uneek's platinum wedding band was selected to represent elegance and style. With the elaborate designs and extensive care they put into each collection, it is no surprise that the Uneek platinum wedding band would be selected as one of the best.
For Uneek, this honor is a promise to continue to make beautiful designs that showcase the quality and style of each collection. With such high distinctions, Uneek's platinum wedding band promises beauty, rarity, and exclusivity to each piece. Featuring this extraordinary platinum ring is a testament to the quality and care that Uneek implements towards their jewelry collections. Presently, Uneek will be partaking in LUXURY/JCK enclave in Las Vegas to exhibit their collection in booth number LUX1207. This elite event will showcase Uneek's award winning designs and introduce their hottest new trends. To view the entire collection of pink diamond engagement rings click here and for the wedding bands click here.
About Platinum Guild International:
Platinum Guild International offers a variety of unique platinum pieces that will last a lifetime. Their selection of engagement rings and wedding bands are a symbol of endurance and strength. At Platinum Guild International the same quality invested in each timeless piece is reflected by the strength of an endless romance. Buying a platinum piece is simple at Platinum Guild International because they take the time to guide and educate their customers through the process of buying jewelry.
About Uneek Fine Jewelry Collection:
Uneek Fine Jewelry Collection prides themselves on their unique signature style and their attention to detail. Their design aesthetic blends contemporary and traditional style to create a one of a kind piece. The designer Benjamin Javaheri successfully creates luxury jewelry that promises the customer nothing but true beauty and quality. He is a six-time design award winner, known for his stunning style and detailed designs. When buying from Uneek Fine Jewelry, you are assured the best customer care and guaranteed to fall in love with your purchase.