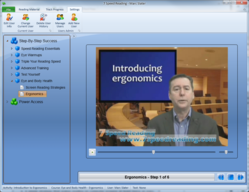 eReflect and the developers of 7 Speed Reading™ software urged individuals to attend these and other conferences in order to become aware of the current illiteracy issues the world is facing.
New York City, NY (PRWEB) June 13, 2013
In a statement focused on the importance of literacy, speed reading software company eReflect, the parent company of 7 Speed Reading™ software, announced today that there is an need to emphasize the importance of literacy issues. Taking literacy for granted is a great mistake and awareness needs to be raised regarding the millions of people who have no access to literacy and knowledge. The software company urges people to see literacy as both a need and a pleasure; a need because it's a weapon of survival, and a pleasure because of all the new worlds it offers the literate individual.
In an effort to give tangible solutions to people wishing to more seriously become literate and to stay informed of its implications, software company eReflect proposes to interested individuals that they attend various literacy related conferences. As the development team behind the speed reading software noted, this is a great way of becoming acquainted with the issue of illiteracy.
7 Speed Reading™ developers who do their part in promoting literacy by improving reading speed revealed that in spring 2013, many literacy conferences took place in the US. Two conferences focused on reading speed and comprehension, the Wisconsin Health Literacy Summit held April 9-10, and the "3Ts" (Transliteracy, Teaching, and Technology) Conference in New York at the Empire State College Center on March 15. The conferences were well attended, and enrollment space was at a premium. eReflect and the development team encourage people to make sure they enroll early for the following upcoming conferences taking place around the world:
July 4-7 AATE/ALEA National Conference in Brisbane, Australia
July 5-7 "UK Literacy Association" meeting in Liverpool, UK
September 5-7 "Asian Literacy Conference" in Bali, Indonesia
October 31-November 2 "U.S. Conference on Adult Literacy" in Washington D.C., USA
November 11-13 "Literacy for All" conference in Providence, Rhode Island, USA
December 4-7 "Literacy Research Association" annual meeting in Dallas, Texas, USA
February 4, 2014 "Dublin Literacy Conference" in Dublin, Ohio, USA
eReflect and the developers of 7 Speed Reading™ software urge individuals to attend these and other conferences in order to become aware of the current illiteracy issues the world is facing. Participants can also discover new insights on the advantages of literacy and the opportunities it offers to literate people. Mentioning the Maryland Information Literacy Exchange Conference in Columbia as an example, eReflect underlined the importance of such conferences in the promotion of new ideas, the progress of literacy research, and the dissemination of this knowledge to wider audiences. eReflect concluded its statement by saying that all of the developers behind the speed reading software hoped that this year's literacy conferences will be unprecedentedly popular and well-attended.
For more information about the benefits of using 7 Speed Reading, please visit the official website at http://www.7speedreading.com.
About 7 Speed Reading™
7 Speed Reading is the only modern speed reading software that uses the latest technology to produce superior results.
The software provides its users with a new way to master speed reading that guarantees three times the reading speed along with improved memory and comprehension.
The software is poised as the most comprehensive speed reading system anywhere. It contains seven learning strategies, fifteen software activities, video training, advanced tracking capabilities and many more exciting features.