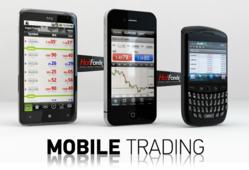 Cybercity, Ebene (PRWEB) June 12, 2013
Following the impressive announcement of four industry awards for the year of 2013 HotForex shows no signs of slowing down as it launches an all new purpose built mobile website http://www.m.hotforex.com
As the trend of users turning more and more to using mobile devices and tablets for performing rudimentary tasks and internet browsing continues, HotForex has now come full circle with a complete range of mobile solutions available for all types of investors. Starting with the launch of dedicated mobile trading platform applications from as far back as June of 2011, HotForex then proceeded to make multiple behind the scenes changes to the core of its existing website, ensuring that it retained full functionality with a responsive look and feel on the massive array of mobile devices and tablets available in today's marketplace.
Analytics have demonstrated an increasing number of website visits are being made through the use of mobile devices and tablets, so in a bid to ensure a rich online experience with powerful content delivery, HotForex has responded by developing an entirely new mobile site that is globally available for access as of today.
The dedicated mobile site is accessible directly with the address 'm.hotforex.com' or as an automatic redirection from 'http://www.hotforex.com ' when viewed from a mobile device. The mobile site has been optimized for viewing on the latest high-resolution mobile device displays and has been engineered to operate flawlessly on widely adopted touch-screens.
Built on a foundation of the latest mobile technology, the HotForex mobile site contains all the information, features, and functions that users might conceivably wish to access whilst on the go, thus making it a very powerful tool particularly for users who do not have constant access to traditional desktop or portable personal computers.
HotForex clientele instantly have mobile access to fundamental mobile trading features which include; the account overview function, opening accounts on the move, immediate deposit and withdrawal features and internal transferring of money between accounts. These new features show that HotForex is continually trying to identify new opportunities in which to make the trading environment of clients a better one.
With its unique blend of trading conditions, products and services, HotForex is proving yet again to be a compelling and dynamic force in the online trading sector.
About HotForex:
Since being founded in 2010, the HotForex brand has been accredited with multiple industry awards and has proven to be an industry leader by offering of Forex & CFDs brokerage services, innovative products, and standout trading conditions. More information on HotForex is available through their website http://www.hotforex.com.