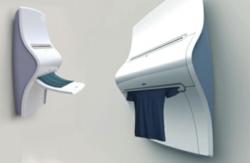 "Technology is changing the t shirt printing and fashion industry. Be part of this change; be ready."
London (PRWEB UK) 30 June 2013
As leaders in their field, Garment Printing need to be part of the future, and their recent focus on the ability to print 3D clothes will certainly ensure they maintain their position at the top.
MakerBot, with a new 50,000-square-foot factory in Brooklyn, have sold over 22,000 3D printers since it opened in 2009. Demand continues to grow, and where there is demand, there is innovation and technology.
The t-shirt printing industry is changing. "It seems that direct-to-garment printing technology is old hat now," says Garment Printing CEO Gavin Drake. "Only a few years ago DTG t-shirt printing became the new printing technology, replacing traditional transfer printing techniques with lower costs and higher quality, but it is still developing day by day and the ability to personalise a t-shirt in seconds is a reality. But to be able to personalise custom clothes with 3D printing at this stage seems unreal. We need to make it real and this is our mission," continued Gavin.
3D printing is a reality, it is now, and we are in the future. Very recently a man from the USA had his skull replaced with the use of 3D printing. A 3D scanner assisted the technology, known as OsteoFab Patient Specific Cranial Devise. Part of his skull is to be replaced using this printing technology. And, speaking with her new 3D printed jaw; a lady from Belgium is recovering well and will be back to normal within weeks. 3D printing in medicine is a revolution, and there is also talk of printing food with the use of these printers. How far can this go?
Focusing on how we can actually 3D print clothes, not print custom designs onto clothing, but physically print an entire t shirt from scratch, in a specific size, and colour, with personalised designs is happening. Designers, entrepreneurs and tech companies are making it happen.
A start up company from San Francisco called Continuum is making progress in this field with 3D printed bikinis, and designer Joshua Harris' vision of using 3D clothing printers to recycle garments is fantastic for sustainability.
For now price is the driver, making these technologies affordable. When it happens, be ready. Custom clothes printed with 3D machines; the ability to personalise a t-shirt, print it and wear it immediately is coming.
"Technology is changing the t-shirt printing and fashion industry. Be part of this change; be ready."