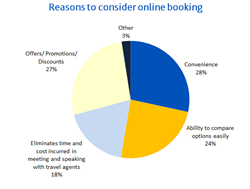 Colombo, Sri Lanka (PRWEB UK) 18 June 2013
An online survey conducted recently by BQu Services revealed that more than 85% of those booking holidays would consider doing this online, if credibility and reliability of the websites were higher. BQu Services therefore finds that it would be important for website owners to reassure people more about their services, and also provide easy access to a human being at the point of decision making.
Currently, there are a limited number of companies utilising the benefits of online surveys, little realizing that Sri Lanka has now crossed the 3 million mark in terms of email penetration, and also has over 1.2 million Facebook users. These statistics confirm the growing online presence in Sri Lanka, and why online surveys would be good tools for reaching a large number of respondents, fast and cost-effectively.
The "Domestic Holiday Planning Survey, Sri Lanka, March 2013" focused on several areas of travel planning such as the frequency of domestic travel, methods of booking holidays, factors affecting holiday booking methods and the attitudes towards online booking of holidays shown by Sri Lankans.
Some key findings of the survey:

Nearly 75% of the respondents traveled twice a year or more within Sri Lanka.
•The survey revealed that only 23% of respondents booked their last holiday online. Of those who didn't do so, 85% said they would consider booking their next holiday online.
•Only 6% of the respondents sought the assistance of travel agents in booking their last domestic holiday.
BQu Services selected this topic for the survey realizing the growth potential of Sri Lanka's domestic tourism sector. Hence the results of this survey would be useful for travel agents, hotels and in general to all stakeholders of the leisure sector of Sri Lanka, in formulating strategies for growth. Moreover, the selection of "online booking engines" for domestic holiday planning is not common in Sri Lanka. The survey revealed that 70% of the respondents booked their last holiday over the telephone.
How the survey was conducted:
BQu Services conducted the "Domestic Holiday Planning Survey, Sri Lanka, March 2013," which was open from the 8th to the 31st of March 2013. It was distributed through email campaigns and social media networks, gathering a total of 157 responses.
The survey was the first in a series of surveys that BQu Services is set to conduct in order to address the lack of first-hand information available to Sri Lankan businesses and industries, through their unique ability to develop and distribute surveys online.
The survey results can be accessed through the BQu Services website. View results on the website.
About BQu Services:
BQu Services – a subsidiary of Peritempo Ltd. in the UK – launched its services in Sri Lanka recently, offering its uniquely tailored solutions to Sri Lankan businesses. BQu Services is fully geared to serve its Sri Lankan clients in the areas of business research and analysis, website and application development, Search Engine Optimisation (SEO), and online marketing support, equipped with years of experience in serving clients all over the world. Contact BQu Services on enquiries(at)bquservices(dot)com.