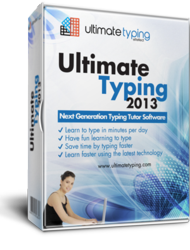 ...the software doesn't require preexisting knowledge or experience with typing, and it takes everything at a pace that makes the learner feel comfortable.
New York City, NY (PRWEB) June 14, 2013
In response to questions from outside reviewers and some customers, Ultimate Typing™ manufacturer eReflect software company revealed today a lesser known quality of the software, the fact that it is designed in such a manner that it can be as useful for young children wishing to learn to type as it is for adult. Although the company that created Ultimate Typing™ has mainly focused on the benefits and qualities the software offers to beginner adult typists, questions from parents have lead to today's announcement explaining how the software has been developed in such a way that it can help young learners to type as well.
According to eReflect, a feature the software designers have worked on extensively is the video tutorials with instructors explaining all there is to learn about typing in great detail. The company explained that these interactive video tutorials use an easy, instructional language that lays out the basics of typing so that anyone can find them useful, no matter their typing level or age. These video tutorials are particularly beneficial for younger learners as they don't assume any prior knowledge of typing, but instead start from scratch.
As reviewers have noted, the software uses a cutting-edge adaptive learning feature, which adjusts the typing level and difficulty of the exercises according to the goals the user sets and their typing performance. This performance monitoring tool constantly registers all typing activity in order to then produce accurate charts that depict the user's progress. More importantly, the software intuitively uses this performance data to recommend the most suitable lesson and typing level that the user can benefit from. The video tutorials along with the performance tracking feature make Ultimate Typing™ suitable for young beginner typists. As eReflect's representative emphasized in today's announcement, the software doesn't require preexisting knowledge or experience with typing, and it takes everything at a pace that makes the learner feel comfortable. Unlike other typing tutors, Ultimate Typing™ is a universal typing improvement software system that the whole family can benefit from using. Its lessons and practice games are varied and plentiful so that typists of all ages can find something challenging and relevant to them.
For more details on Ultimate Typing™ please visit http://www.ultimatetyping.com/.
About Ultimate Typing™
Ultimate Typing™ software is designed specifically for the improvement of typing skills. Created by eReflect, a world leader in e-learning and self-development
software, Ultimate Typing™ has been informed by the latest developments in the science of touch typing.
Since its creation in 2006 by Marc Slater, the company has already catered to over 112 countries all over the world, offering products with the latest cutting-edge
technology, some of which are among the world's most recognized and awarded in the industry.