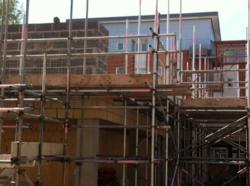 The apartment block is set to be completely raised by Q4 2013.
Manchester, UK (PRWEB UK) 14 June 2013
X1 Salford Quays, an off-plan apartment block nestled perfectly between Media City and Manchester City Centre is set to be completed ahead of schedule.
Phase 1 of the complex is a 60-unit apartment block which was set to be completed by Q1 2014, however construction has moved at a quicker rate than anticipated and the block is now set to be completely raised by Q4 2013.
"The fast pace of the construction of X1 Salford Quays has completely exceeded all of our expectations. With the development being so close to our offices in Salford Quays, it has been fantastic to see first-hand the development rise as quickly as it has," Agents Network Team Manager at Knight Knox International, Andrew Brassey commented.
The development, which was launched in October 2012, grabbed the attention of investors because of its unique appeal as one of the only new-builds to be launched in Manchester in recent times, leading the development to being 98% sold out when this article went to print.
X1 Salford Quays is being developed as a joint venture between X1 Developments and ELAN Homes, and the two highly successful property developers have not waited around to start work on the site – already erecting the transfer slab, with work set to start on the second floor in the next fortnight.
The popular demand for phase 1 has led to the planned launch of another two phases which will comprise of 120 apartments, with building set to start on them almost immediately after the completion of phase 1. The interest among investors for these upcoming buy-to-let opportunities is high, with many clients registering their interest prior to the launch, requesting first refusal on the popular units.
About Knight Knox International
Market leaders in worldwide property investments, Knight Knox International offers an extensive range of property and services on a global scale with properties in over fifty countries. The properties we sell range from beach-front condos in Thailand and Turkey, to prime coastal land in Florida and boutique student accommodation and new-build residential projects in the UK.
For further information on X1 Salford Quays, or the full range of buy-to-let opportunities available through Knight Knox International, please contact +44 (0)161 772 1370.