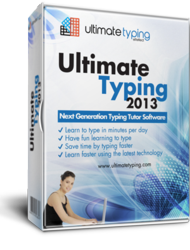 ...the software has such a scientific basis, translated into a very supportive program structure, that it makes learning almost effortless.
New York City, NY (PRWEB) June 19, 2013
Software development company eReflect, manufacturer of Ultimate Typing™ and many other educational software products, announced today that 2013 will be a year of new educational software releases, as well as upgrades of the existing Ultimate Typing™ system. The company says they are energetically focused on this process, and states that the design team is working fervently to finalize the latest version of the Ultimate Typing™ in time to be released before the end of 2013. Apart from the updated 2013 version of Ultimate Typing™, the company also divulged that other versions of all of their educational software will be released too, for which no other information is yet disclosed.
The typing software, Ultimate Typing™ by eReflect, is a scientifically based software system based on typing methodologies and strategies which offers learners the ability to quickly and efficiently improve both their typing speed and accuracy. As its designers profess, the software has such a scientific basis, translated into a very supportive program structure, that it makes learning almost effortless. In fact, the company emphasized, users with poor typing skills can tangibly improve their typing performance in about two weeks and with no more than ten minutes of typing practice each day. As the eReflect developers hinted in their brief statement today, new and long-awaited features will enrich the already impressive toolkit of Ultimate Typing™, as the company is determined to maintain its No. 1 place as the most efficient, reliable typing software.
Rationalizing the idea behind the frequent revising and updating of Ultimate Typing™, its developers explained that the company's philosophy is to keep the software up to date and in line with the latest research findings. Their aim, a company representative revealed, is to always offer optimized typing learning opportunities to people of all ages and typing levels. Concluding today's statement, the company representative revealed that the latest software version by eReflect is scheduled for release later this year or early next year.
For more details on Ultimate Typing™, please visit http://www.ultimatetyping.com/.
About Ultimate Typing™
Ultimate Typing™ software is designed specifically for the improvement of typing skills. Created by eReflect, a world leader in e-learning and self-development software, Ultimate Typing™ has been informed by the latest developments in the science of touch typing.
Since its creation in 2006 by Marc Slater, the company has already catered to over 112 countries all over the world, offering products with the latest cutting-edge technology, some of which are among the world's most recognized and awarded in the industry.