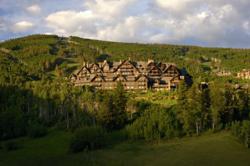 BEAVER CREEK, Colo. (PRWEB) June 11, 2013
The Ritz-Carlton, Bachelor Gulch re-opened on June 5 ready to welcome guests to the renowned mid-mountain resort. Closed since April 1 for renovations, the multimillion dollar refresh and enhancement project to its 180 guest rooms and suites, public areas including the Lobby, Great Room, Ritz Kids and Club Level Lounge marks the completion of the first phase of its $15 million renovation program. "It is with much excitement that we re-open our doors to our guests around the world with a new and fresh resort experience that truly embraces the spirit of the Rocky Mountains," said Abdullah Vural, general manager for The Ritz-Carlton, Bachelor Gulch. Further enhancements to the property will be unveiled in the coming months with a new restaurant, lounge and meeting and wedding spaces being refurbished before the beginning of the winter 2013-2014 ski season.
The award-winning resort's vibrant new look embraces the rich heritage of 'parkitecture' – a style inspired by the great mountain lodges of the National Park system - through a display of earth tones, sophisticated furnishings and contemporary paintings. New furnishings and fixtures in The Great Room, modernize the space, retaining the rustic, elegant charm the resort is known for, while creating a new ambience with a more contemporary feel. The same approach was employed to enhance the guest rooms and suites. The resulting design embraces the natural elements both inside and outside the room and enhances them with fresher, brighter palettes of blues, greens, golds and creams with an alpine feel. The fine-crafted woodwork and stone fireplace combine gracefully with the new elements to create a modern yet rustic feel. The guest room color scheme is inspired by the famous Colorado blue skies and new art pieces were selected featuring local foliage and aspen trees. All the art was created by Colorado artists, which helps define the sense of place. The carpet design relates to the location and is based on a cracked ice concept, while the wall covering is a contemporary interpretation of red rock. The fresh design uses clean lines that connect with modern traditions while imparting warmth and richness.
For more information or to make reservations at The Ritz-Carlton, Bachelor Gulch, contact a travel professional, call (800) 241-3333 or visit http://www.ritzcarlton.com/bachelorgulch. Connect with us at http://www.facebook.com/RitzCarltonBachelorGulch.
# # #