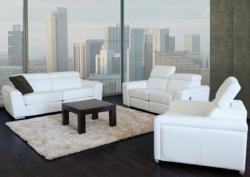 A push of a chrome finished button is all it takes to raise comfort levels, with the help of the TV remote, of course.
Dallas, Texas (PRWEB) June 13, 2013
The Interior Gallery has just launched its latest range of luxury living room sets. The company stated that all 23 of its latest additions can be viewed at their online store as well as at its $3 million showroom in Allen, Texas.
The company also stated that it is offering discounts of up to 30% in conjunction with Father's Day for its luxury sofa sets which come in both Brazilian leather as well as chic European fabric. Both materials offer luxurious levels of comfort along with pleasing aesthetics.
Apart from being available in different materials, the living room sets are also available in different colors depending on the model. Seeing as living room sizes differ, The Interior Gallery offers 2-piece sectionals for smaller rooms up to the eye-catching Eslin 7-piece sectional modular sofa set for larger living spaces. The Eslin is a very flexible configuration which more than hints of a heavy European design influence.
The company expects the Faustino model to get the bulk of the attention, seeing as this particular 3-piece leather living room set comes electrically powered. Each piece can be manipulated into a perfectly reclined position with utter ease, raising the luxury bar even higher. A push of a chrome finished button is all it takes to raise comfort levels, with the help of the TV remote, of course. A gift any father would appreciate.
The Interior Gallery assures customers that although prices have been slashed, quality remains the hallmark of its business. The company iterates that it is able to offer many of its items at heavily discounted prices because they are directly imported from manufacturers, avoiding middlemen markups.
The Interior Gallery is committed to providing products of value at the highest quality to its customers. All products are inspected individually, repackaged with industrial strength packaging materials before being shipped to customers.
For more information about The Interior Gallery, please visit http://www.theinteriorgallery.com/. Customer service can be reached at toll free 866-205-6867 while the showroom is open to the public from Monday to Friday (9am - 6pm), Saturday (10am - 6pm) and closed on Sundays.