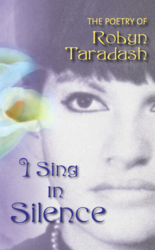 There is no one here now; No one to help me drink The left-over wine of grey yesterdays and blue tomorrows. Tangled here in silken cobwebs of drifting clouds, I Sing in Silence
c2012 Robyn Taradash
Sarasota, FL (PRWEB) June 13, 2013
Dad
"You are the Greatest Father
I could have asked for -
You showed me kindness
When I didn't deserve it
You gave me confidence
When I had none
You dried my tears (and there were many)
You eased my fears
You've always understood
When I couldn't do something
And gave me comfort when I was alone
Although we argued
You always forgave me
And in short, taught me
The meaning of Love" c2012 Estelle Taradash
This poem was written by a young girl diagnosed with multiple sclerosis. Robyn Taradash, 1950-2007, wrote the poems when she was in her high school and college years. With these lines above in her poem "Dad," Robyn Taradash expresses her deep affection for her father. Another poem "Daddy," expresses a deeper side of her relationship with her father.
"Robyn's poems are about hope, love, disappointment, darkness, tears and hope again. They are about life and human emotions... they touch people very deeply," says Robyn's mother, Estelle Taradash, who contacted Granny Apple Publishing in Sarasota, Florida through a mutual friend.
"Robyn's poetry takes the reader inside the mind of a young MS sufferer like very few writings before or since. Incredibly sad and incredibly beautiful, Robyn's words resonate universally with those who are in their teen years, or with anyone who feels isolated by an addiction or other problems, or anyone who remembers their own lonely journey from youth to adulthood," Verdeguer adds.
Any of the poems are available to be printed on a custom poster featuring the art "The Agony and the Lily" by artist Karizu. Lilies from the artist's painting are featured on the cover of "I Sing in Silence." For information on the artist or the posters, visit Karizu's website.
Born in Brooklyn, NY on July 20, 1950, Robyn lead a normal life until she was 17 years old. "She used to walk with her friends from Massapequa to Farmingdale," recalls Estelle, "and started to tell me she noticed she was veering off to the right and experiencing tingling sensations in her legs. Robyn was eventually diagnosed with multiple sclerosis. After high school, she was accepted at Hofstra University in Hempstead, New York, where she majored in English and maintained a very high academic average, graduated Magna Cum Laude and received permanent certification for teaching."
Adds Estelle, "And after completing just one semester of teaching, her disabilities exacerbated. Her walking became extremely labored and the resulting stress caused her to resign and come home. These poems reflect a period in Robyn's life when the average teenager feels indestructible and unassailable. But due to her limited physical abilities, Robyn felt isolated, lonely, vulnerable and understandably frightened of what the future had in store for her. These poems are Robyn's legacy."
"I Sing in Silence: The Poetry of Robyn Taradash" is available at Granny Apple Publishing and Amazon.com.
Estelle Taradash, Robyn's mother and caregiver, is available for phone interviews. Contact Granny Apple Publishing LLC at 941-870-3422.