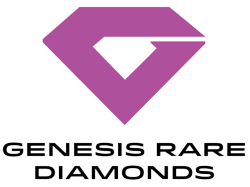 Never before has Rio Tinto displayed a red diamond in their annual tender, and this year they've got three. - Genesis Rare Diamonds
Toronto, Canada (PRWEB) June 11, 2013
The Argyle Diamond mine, owned by Rio Tinto, typically known as the world's leading supplier of natural pink diamonds, is featuring 3 red diamonds as the centerpiece of it's 2013 diamond collection, known annually as the "Argyle Tender". The tender shows the finest lot of diamonds from this year's production from the Argyle mine.
"Never before has Rio Tinto displayed a red diamond in their annual tender, and this year they've got three... it's a showcase almost as rare as the red diamonds themselves," remarked Jeff Kushner, President of Genesis Rare Diamonds', Toronto Canada offices. "Rio Tinto and the Argyle Mine always have an impressive display arranged at their tender each year, but this year's catalog is impressive to say the least".
Among the red stones is the "Argyle Phoenix", a 1.56 carat round diamond, named for the newly commissioned Argyle underground mine.
Josephine Johnson, Argyle Pink Diamonds manager, added: "The intrinsic beauty and unrivaled colour intensity of this red diamond is symbolic of its East Kimberley birthplace and the treasures that lie within the depths of the new underground mine." (Professional Jewelery.com, May 2013)
In addition to the brilliance of the red diamond centerpieces is, for the first time in eight years, a 3 carat plus diamond, the 3.02 carat radiant cut, Fancy Intense Orangey-Pink Diamond, named the Argyle Imperial.
Rounding out the featured stones of the 64 piece collection, is a blue heart shaped diamond, noted at 0.71 carats, called the Argyle Celestial, along with a matching heart shaped fancy pink stone from the collection.
All told, the 2013 Argyle Tender will include 58 pink, 3 red, and 3 blue diamonds. Truly, a unique showing for the natural colour diamond industry.
"A showing of this many high quality natural colour diamonds would be special unto itself," notes the Genesis Rare Diamonds' director, himself an attendee at the 2010 showcase, "...but the Argyle Tender has special provenance, quality, and the rare and unique opportunity to view, and bid upon the rarest and finest diamonds anywhere to be found worldwide. Our customers are avid buyers of Argyle's pink diamonds, and this showing is top-tier."
About Genesis Rare Diamonds (Ontario) Ltd. and Natural Colour Diamonds
Genesis Rare Diamonds specializes in the trading of some of the world's highest quality, investment-grade and conflict-free natural colour diamonds. Rare coloured diamonds are the most concentrated form of wealth on the planet as they make-up less than 1% of the world's diamonds mined annually. In over 30 years of value tracking, the wholesale value of investment grade natural colour diamonds have never decreased, despite world conflict, terrorism and economic upheaval.
These diminutive commodities are part of an ever diminishing worldwide supply with constantly increasing buyer demand, annual value increases have been pushed to increasing levels. On average, over the last 30 years, natural colour diamonds have increased in value by 15% to 30% yearly with no signs of slowing notwithstanding the economic downturn of 2008.
Natural Fancy Coloured Diamonds are not a short term investment. This asset class is intended for the longer term, with a holding strategy that could potentially net returns far greater than the stock market could hope to achieve. Our diamond group is dedicated to ensuring the best possible position for every client. We recommend only the finest natural colour diamonds at the most reasonable and competitive prices.
Genesis Rare Diamonds pledges to never deal in blood or conflict diamonds and never will. All of our diamonds have undergone strict compliance with the Kimberly Process, are certified by recognized gemmological laboratories (such as GIA and EGL) and are unconditionally guaranteed as to cut, clarity, colour and carat weight.
Disclaimer: Genesis Rare Diamonds is not an investment advisor nor is it licensed to provide investment advice. Genesis Rare Diamonds strongly recommends that their clients seek the advice of their financial advisors, gemologists and/or attorneys if they are seeking to invest in quality diamonds as part of an investment portfolio or strategy. Natural colour diamonds have been subject to upward price movements historically. Genesis cannot guarantee that upward price movements of natural colour diamonds which have occurred historically will continue in the future.