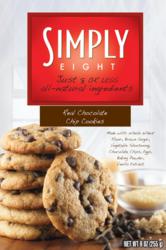 Kalamazoo, Michigan (PRWEB) June 12, 2013
Simply Eight, a Michigan-based company dedicated to simple ingredient foods, today announced it has gained expanded distribution of its line of cookies into select Spartan Stores in West Michigan. Beginning June 12th, it will be simpler for consumers to find Simply Eight® cookies – available in the cookie aisle of select Spartan stores.
Simply Eight introduced their simple ingredient foods just earlier this year. The Simply Eight® cookies were launched on February 15th in the Natural Products section of select Kroger Michigan stores while Simply Eight® Chewy Granola Bars, were part of the breakfast granola bar category reset on March 15th in select West Michigan Meijer stores. This expansion into Spartans marks another key milestone for Simply Eight, as its products are now available in the top three retailers in Michigan – please visit http://www.simplyeight.com for specific store locations.
Ernie Pang, Simply Eight's Chief Simple Officer stated, "This is extremely exciting news for Simply Eight. Gaining distribution into select Spartan Stores in West Michigan continues to build our presence. On our Facebook page, we are seeing more and more consumers embrace our message about simple ingredients and cleaner eating. Many have asked where they can find our products. It is certainly welcomed news that Spartans Stores have also given us an opportunity to serve these consumer's needs. As a small local start-up, it is a challenge to compete with national brands for shelf space. As such, we are incredibly grateful to these major retailers in providing the distribution opportunities to us."
Each of Simply Eight's products contains just 8 or fewer basic ingredients; ingredients that are typically found in a household kitchen pantry. The company challenges the status quo of the processed foods industry and believes great tasting convenient breakfast and snack foods can be made simpler – without all the complicated inventions of modern food science.
Simply Eight's current product line consists of cookies and chewy granola bars both in two flavor varieties: Chocolate Chip and Peanut Butter Chocolate Chip.
About Simply Eight®
Simply Eight®, the simple foods innovator, is a recent start-up based in Kalamazoo, Michigan. Simply Eight® Founder Ernie Pang and his team created Simply Eight® with a philosophy of providing minimally processed packaged foods for consumers who want simplicity and familiar kitchen pantry ingredients. Each food product contains just eight basic ingredients or fewer.
All products are made with all natural ingredients – ingredients free of artificial preservatives, artificial flavors, artificial colors, hydrogenated oils, High Fructose Corn Syrup (HFCS), Genetically Modified Organisms (GMOs) and trans fats. For more company and product information on simple foods/ingredients related topics, please visit the Simply Eight® website at http://www.simplyeight.com and on Simply Eight's Facebook page at http://www.facebook.com/simplyeight.