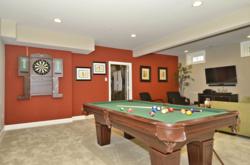 Germantown, MD (PRWEB) June 12, 2013
Forget ties. Forget electronics. Forget tools. This Father's Day, look no further than home for the perfect gift for Dad. Though Dads can be notoriously hard to shop for, new home builders in Maryland Advantage Homes say what Dad wants most are home elements that make life better and daily tasks easier. "Our male buyers are looking for quality-built homes that are comfortable, functional and enjoyable," says James McCormack, Vice President of Sales & Marketing at Advantage Homes. With Father's Day approaching, consider these five features men look for most in their home design:
1. Master Bath: Women aren't the only ones who want privacy with a touch of indulgence at the end of the day. According to a 2012 Trulia survey, 64% of men agree a large master bathroom is a necessity in the home; the master bath also ranked as the top amenity that make men fall in love with a home. With Jacuzzi soaking tubs and optional Whirlpool jets, "his and her" sinks, and luxurious vanities fit for the king of the house, McCormack says male homebuyers instantly fall in love with the master bathrooms of Advantage's new homes in Maryland.
2. Large Backyard: Dads don't want just any old backyard. Only a spacious, easy-to-maintain outdoor oasis will do. Here, Dad has plenty of room for grilling, entertaining friends and family, or throwing the football around with the kids. According to Trulia, 51% of men say an outdoor patio is also important. Decks come standard with many of Advantage's townhomes and traditional and neo-traditional single-family homes in Maryland.
3. "Man Cave": A man cave is more than just a room for Dad to hang with his buddies. "Dads want their own space where they can relax, retreat and recharge away from the stressors of work, family and bills," McCormack says. Anything from a basement bar area to a spare bedroom can serve this purpose. At Advantage Homes, large, finished basements offer plenty of space for pool tables, flat screen TVs, sectional sofas and more. Plus, Dad has optional upgrades like a theatre room for watching games or movies with the boys, "a must-have for any sports, gaming or movie buff," McCormack adds.
4. Garage Space: Commonly viewed as Dad's favorite spot in the house, the garage expands the home's living area and serves as a storage space. Dads want a garage for storing and organizing household items and sports equipment, for use as a workshop, to buff and polish the car, and more. With granite-like floors and cabinets, many of today's garages could easily be extra rooms in the house. Advantage's builders in Maryland offer homeowners garage insulation packages for superior temperature control.
5. Gourmet Kitchen: According to a survey by Kraft Cheese, 96% of U.S. dads cook for themselves or their families every week. "Many fathers spend a lot of time in the kitchen, so they want the very best countertops, floors, cabinets and appliances on the market," McCormack says. Advantage kitchens exceed Dad's needs with double-stacked, self-cleaning ovens, ENERGY STAR appliances that use 10-15% less energy, stainless steel finishes and much more. "Top Chef" runner-up, father, restaurateur and Advantage Homes homeowner Bryan Voltaggio says his feels like a professional kitchen environment, with plenty of space to entertain.
McCormack adds any gift that saves Dad money this Father's Day will be a hit. Advantage Homes is committed to building 100% ENERGY STAR homes. Their new homes in MD deliver an additional 20% or more in energy savings compared to a traditional new home. "This averages to about $2,700 in savings each year, a hefty chunk of change any Dad wouldn't mind having in his pocket this Father's Day," McCormack says. To learn about more home features Dads want, visit Advantage Homes' website.
About Advantage Homes:
Advantage Homes is an award-winning, custom homebuilder with a 98% customer satisfaction rating. A commitment to crafting extraordinary homes of quality design and construction underlies the Maryland builders' dedication to customer satisfaction. Honesty, integrity and professionalism guide Advantage Homes as they strive to delight homebuyers with the finest quality new homes in Maryland.
# # #