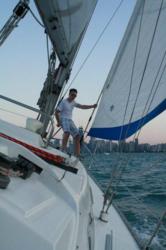 Chicago, Ill (PRWEB) June 11, 2013
Chicago Sailboat Charters, renowned for providing the largest variety and highest quality service and value for Lake Michigan sailing experiences, is now offering a number of discounts for charter trips booked by phone at 773.236.7245 or online at chicagosailboatcharters.com. The Chicago Sailboat Charters fleet is available for a variety of options, ranging from romantic sails for two to party trips for up to ten, and its skilled captains are well known in sailing circles for their knowledge, experience, and hospitable guidance that enhance every cruse experience.
Cruises are launched every day out of Belmont harbor and can be scheduled from early morning to late night, providing flexibility to accommodate clients' individual needs and planning. Information about the availability of sailboats and current rates can be obtained by calling 773.236.7245.
All of the Chicago Sailboat Charters' sailboats have fully functional marine heads (bathrooms), stereo systems, and plenty of cooler space for passengers' drinks and food for trips that offer opportunities for swimming, sun bathing, and just enjoying a relaxing day on the lake. Night cruises provide magnificent views of the Chicago skyline on the lake and along the river, as well as unmatched, front row viewing of the summer Navy Pier Chicago fireworks shows on Wednesday and Saturday nights through Labor Day. An added bonus is a "Full Moon Rising" sail on nights when full moons behind the city provide brilliant, spectacular views of the Chicago skyline on the heels of magnificent sunsets.
Chicago Sailboat Charters' current discounts include 30 percent off on Sunday night sails beginning after 6:30 PM and 33 percent off Sunday Party/Sail Sunset 3:30-9:30 packages after 6:30 PM. Forty percent discounts are available on Monday through Thursday, four-hour or longer daytime private cruises for up to six passengers that end before 6:00 PM and are pre-purchased (Excluding the Fourth of July). Information about participating in the pre-purchase voucher plan is available by calling 773.236.7245 or visiting the company's website, chicagosailboatcharters.com.
The company has expanded its services with the addition of a 40-foot Sea Ray powerboat that is available for rental. The boat can be reserved through Chicago Sailboat Charters' telephone or online connections.