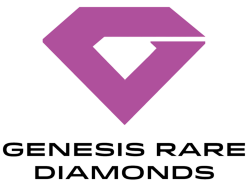 Blue diamonds represent an elite in the natural colour diamond market - Genesis Rare Diamonds
Toronto, Canada (PRWEB) June 11, 2013
As natural fancy colour diamonds shine under the watchful eyes of collectors and investors worldwide, blue diamonds have recently taken centre stage as one of the rarest to be found. Known historically as the colour of the famous Hope Diamond, the deep blue piece is remembered from it's appearance in the film Titanic, as well as international folklore. In 2009, a 7-carat (1.4 g) blue diamond sold at auction for the highest per carat price ever, for $10.5 million Swiss francs (or USD $9.5 million), or USD $1.3 million per carat.
"Blue diamonds represent an elite in the natural colour diamond market", Jeff Kushner, Director of Toronto Canada's Genesis Rare Diamonds notes. "With so few colour diamonds in general on the market, blue diamonds rank amongst the rarest and most valuable of any that one can find. Second only to red, the blue diamonds are the rarest colour available, and only become more scarce as mines dwindle away their supply.
Recently blue diamonds have been back in the headlines, with a record USD $9.5 million sale at a London auction in April 2013. The Fancy Deep Blue cushion cut, 5.3 carat diamond was bought from Bonhams Fine Jewellery sale for USD $1.8 million per carat, up from the previous world record of USD $1.68 million.
Blue diamonds over five carats are extremely rare, with fewer than 30 blue diamonds having appeared at international auctions. By comparison to the tens of thousands of white diamonds that are sold each year, the unique and rarity of nature's little treasures is noteworthy.
In addition to the Bonham-sold blue, a 25.5 carat blue diamond was found in South Africa recently. The Cullinan Mine, world famous for being the leading producer of blue diamonds internationally, was the source for this remarkable piece. "Colour diamonds of this size are unique in and of themselves", Mr. Kushner remarks, "...but to find a blue diamond, of this high quality and top colour is simply astounding."
The Cullinan Mine has been known for producing some amazing colour diamonds, that have yielded some of the highest on record auction results in history, including a 26.6 carat stone, that ultimately resulted in a 7 carat polished Fancy Vivid Blue internally flawless diamond, that sold for USD $9.49 million per carat, in May 2009.
Ultimately the rarity of any colour, and the quality of that colour of diamond, impacts heavily upon the value. Demand by investors and collectors for the most rare and unique combinations of colour depth, clarity, cut style, often exceed supply. "Pink Diamonds, sourced almost exclusively from the famous Argyle Mine in Australia, face a similar supply shortage to blues and reds in the market", Mr. Kushner explains, "...with the pending shutdown of the Argyle mine in a few years time, the flow of pink diamonds into the market will ebb, and ultimately an Argyle pink will become scarce, and the value of the remaining pieces will likely benefit."
About Genesis Rare Diamonds (Ontario) Ltd. and Natural Colour Diamonds
Genesis Rare Diamonds specializes in the trading of some of the world's highest quality, investment-grade and conflict-free natural colour diamonds. Rare coloured diamonds are the most concentrated form of wealth on the planet as they make-up less than 1% of the world's diamonds mined annually. In over 30 years of value tracking, the wholesale value of investment grade natural colour diamonds have never decreased, despite world conflict, terrorism and economic upheaval.
These diminutive commodities are part of an ever diminishing worldwide supply with constantly increasing buyer demand, annual value increases have been pushed to increasing levels. On average, over the last 30 years, natural colour diamonds have increased in value by 15% to 30% yearly with no signs of slowing notwithstanding the economic downturn of 2008.
Natural Fancy Coloured Diamonds are not a short term investment. This asset class is intended for the longer term, with a holding strategy that could potentially net returns far greater than the stock market could hope to achieve. Our diamond group is dedicated to ensuring the best possible position for every client. We recommend only the finest natural colour diamonds at the most reasonable and competitive prices.
Genesis Rare Diamonds pledges to never deal in blood or conflict diamonds and never will. All of our diamonds have undergone strict compliance with the Kimberly Process, are certified by recognized gemmological laboratories (such as GIA and EGL) and are unconditionally guaranteed as to cut, clarity, colour and carat weight.
Disclaimer: Genesis Rare Diamonds is not an investment advisor nor is it licensed to provide investment advice. Genesis Rare Diamonds strongly recommends that their clients seek the advice of their financial advisors, gemologists and/or attorneys if they are seeking to invest in quality diamonds as part of an investment portfolio or strategy. Natural colour diamonds have been subject to upward price movements historically. Genesis cannot guarantee that upward price movements of natural colour diamonds which have occurred historically will continue in the future.