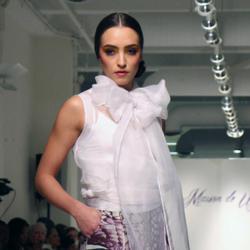 "The relationship between the PR official and the press needs to be extremely strong so the client can receive a warm welcome to the industry." - Aashna Moitra, 3D PR & Marketing
Austin, TX (PRWEB) June 11, 2013
FashionMingle.net, a networking and PR platform for fashion entrepreneurs, is hosting a live webinar titled Runway Roadmap: Fashion Show PR on June 13th at 2:00pm EST. The online event will be an opportunity for fashion designers and PR professionals to learn the tip and tricks of getting people, press and celebrities to attend.
Fashion designers, public relations students and professionals are invited to submit questions about promoting fashion shows and showing a collection during New York Fashion Week. Questions can be submitted at http://www.FashionMingle.net/RunwayRoadmap/ and may be selected for inclusion in the live event on Thursday, June 13th.
Featured panelists include Jane Owen of Jane Owen PR and Aashna Moitra of 3D PR & Marketing who have promoted top designers and brands around the globe. The online discussion can be viewed on the FashionMingle.net website or on Google Hangouts.
Jane Owen is a public relations and event planning expert who has worked with international celebrities and brands such as Full On Entertainment LTD and Van Cleef & Arpels in the UK. Jane has worked with Shine Media in New York and was co-founder of P3R Publicity in Beverly Hills. She now runs her own PR firm, Jane Owen PR and in 2011 she was awarded the NAPW "Woman of The Year Award" for success in her field, her work in the community and philanthropy.
Aashna Moitra is an Account Executive for 3D Public Relations & Marketing, a full-service PR agency representing clients from large e-commerce websites, fashion, accessories as well as individual fashion designers, celebrity stylists, hairstylists, and makeup artists. Aashna recently promoted a successful fashion show during New York Fashion Week for emerging designer Urbana Chappa of Maison de Urbana.
The Runway Roadmap is a 4 part series and introduces fashion designers and their teams to industry professionals who provide expert advice on producing a successful fashion show. Recorded webinars can be viewed online at the FashionMingle.net web site.
Previous interviews with professionals from the styling industry provided expert advice on styling for fashion shows and participating in Mercedes Benz Fashion Week. Two more events will be held this month and feature fashion designers who have successfully launched their collections in New York and a panel discussion with fashion show producers from New Orleans Fashion Week, Nolcha Fashion Week, and Mercedes-Benz Fashion Week.
The "Runway Roadmap" series is produced by Jaxon Entertainment & Productions and is sponsored by Planet Fashion TV, Created Woman Magazine, and the Houston Fashion Bloggers Association.
About FashionMingle.net
FashionMingle.net is a network for fashion entrepreneurs to share, discover, and mingle. The online magazine, business directory, and social network creates a platform for fashion entrepreneurs to promote their services and grow their business.