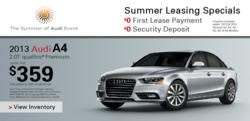 "All of Purpose Automotive Advertising's services are custom-tailored to each specific dealership as a one size fits all approach has been failing for over a decade now."
-Michael Sweigart, President, Purpose Automotive Advertising
Long Island,NY (PRWEB) June 13, 2013
Audi of Huntington and Audi of Smithtown have called upon Purpose Advertising to grow their Internet sales for their Audi stores. Purpose Advertising has begun working hand in hand with the dealerships and web providers to provide the best lead converting website available for Audi dealers and their shoppers.
Purpose Automotive Solutions continues to stay well ahead of the curve as with new products and services to solve dealer's everyday problems managing, maintaining, and promoting their stores.
Purpose is known for helping automotive retailers improve online visibility using proven on-site and off-site SEO strategies and content development, as well as the extremely important website marketing, maintenance, and merchandising services. A recent study showed that more than half of dealer websites were not up to date with the most recent offers, specials, coupons, or incentives. In addition, the majority of car dealers did not have monthly prices or payments available for consumers to view.
The website and content management services provided can include onsite blog development posting, press release writing, link building, automotive video marketing, Google Places visibility, and Google Analytics, among other services.
Dealership's special offers are updated frequently to provide the best buying experience for those in the market or doing research to buy a new car.
Long Island Audi Dealers Audi of Huntington and Audi of Smithtown aim to be the top Audi Dealers in all of New York, and especially Long Island.
Learn more about Audi of Huntington and Audi of Smithtown by visiting http://www.audiofsmithtown.com or http://www.audiofhuntington.com.