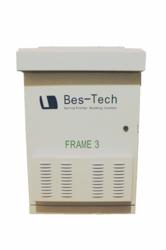 The Warko Group is a highly respected mechanical contractor in Pennsylvania. We are pleased to have them as a channel partner with Bes-Tech.
Omaha, NE (PRWEB) June 12, 2013
Bes-Tech, Inc. an energy efficiency technology company headquartered in Omaha, Nebraska, is proud to announce The Warko Group as a new channel partner. As a Bes-Tech channel partner, The Warko Group will be the sales and service representative for the Pennsylvania and New Jersey areas of the Digi-RTU and Digi-CRAC optimizer units.
A Digi-RTU is a Heating, Ventilation, and Air Conditioning (HVAC) rooftop unit aftermarket control kit that is both a demand management and energy usage device. It is designed to improve the energy efficiency and demand requirements of a rooftop unit as well as solves the humidity, common noise, and frequent on/off issues of a rooftop unit through modulating the capacity of a rooftop unit to match the cooling or heating space requirements. Using load matching technology, the Digi-RTU can turn a constant volume constant capacity unit into a variable capacity system. Digi-RTU reduces energy consumption and demand by up to 50%.
Digi-CRAC is an aftermarket product designed specifically for data centers. It will provide energy savings of up to 30% or more for the compressor and fan efficiency of a DX unit, and up to 60% in fan power savings for chilled water units. Digi-CRAC matches the dynamic nature of the data center's cooling loads with capacity modulation. Because of its longer run-cycles, it best manages temperature and humidity within the center's environment.
About Bes-Tech
Bes-Tech has been a leader in energy efficient building systems technologies for the past nine years. The company was founded on proven scientific engineering processes and technologies that reduce peak energy demand, minimize energy usage, and maximize energy efficiency. We actively work to lower the carbon footprint of the built environment. You can see more at bes-tech.net
About The Warko Group
The Warko Group, a family owned and operated company with roots dating back to 1956. Robert J. Warkoczewski acquired all capital stock of The Warko Group in 1988 and entered into the position of President and Chief Executive Officer. In 1995 The Warko Group pursued a more versatile market, in an attempt to meet all the mechanical needs under one business. With over forty-two years of experience. The Warko Group has established itself as one of the premier contractors in the region.