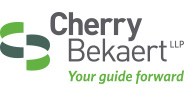 Greenville, SC (PRWEB) June 11, 2013
Cherry Bekaert LLP is pleased to announce that Mark H. Cooter has joined the Firm as a Tax Partner. Based in Cherry Bekaert's Greenville, South Carolina office, Cooter will serve as the Managing Partner of the South Carolina Upstate practice with responsibility for executing the Firm's strategy for serving the growth needs of clients in the state.
"Mark Cooter is a high profile leader in the region and is well known for working with growth oriented companies," states Kip Plowman, Cherry Bekaert's Managing Partner of Strategic Markets. "We are excited Mark is joining our team to help us expand our presence with growing, middle market businesses in the Upstate region and across South Carolina and Georgia."
Cooter focuses his practice on the tax and growth needs of real estate and construction companies and middle market corporations. His service experience includes complex tax matters, due diligence for mergers and acquisitions, partnership taxation and growth advice for closely-held corporations. Prior to joining Cherry Bekaert, Cooter worked with an international accounting firm and was a shareholder with Elliott Davis, LLC, where he led their real estate practice.
"This is a tremendous opportunity to join a large, national accounting firm with an impressive depth of resources and specialized talent," noted Mark Cooter, incoming Managing Partner of Cherry Bekaert's SC Upstate practice. "This larger platform will help me to better serve our clients' growing needs and I am honored to be in a leadership position where I can use my skills and experience to help existing and new clients reach their goals."
Cooter is a Certified Public Accountant and earned a B.S. in Accounting from Wake Forest University and a Master of Taxation from Georgia State University. He is active in the Greenville community and involved with professional organizations such as the Urban Land Institute, National Association of Real Estate Companies and Real Estate and Construction Advisors.
About Cherry Bekaert LLP
As a nationally recognized, growth-oriented firm, Cherry Bekaert has the resources to take your business as far as you want to go. The Firm's industry specialists already know your marketplace, so they can help you make the most of emerging opportunities while minimizing compliance headaches. With their down-to-earth style and wealth of practical advice, you will find Cherry Bekaert an indispensable part of your team.
Ranked among the largest accounting firms in the country, Cherry Bekaert specializes in offering solutions that impact their clients' ability to grow. For more than 65 years, global corporations, private businesses, government entities, nonprofits, emerging firms and successful individuals have relied on Cherry Bekaert to guide them forward as their growth partner. http://www.cbh.com.