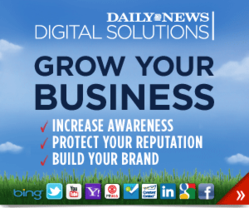 New York, NY (PRWEB) June 13, 2013
Daily News Digital Solutions (DNDS) is excited to announce its participation in three June events that will give business owners opportunities to network and learn about Internet marketing. These events will be held in partnership with local business organizations including the Bronx Chamber of Commerce, Popular Community Bank and the New American Chamber of Commerce (NACC).
DNDS will have Digital Consultants on hand at each of these events to engage attendees and provide free, on-the-spot consultations for Internet marketing solutions designed to improve branding and generating leads.
Featured at all three events will be an informational session entitled "Online Marketing: It Doesn't Have to Be Complicated" presented by Michael Flaminio, Vice President of Daily News Digital Solutions. Mr. Flaminio will speak to attendees about the growth of mobile, social media, and reputation management, as well as building a presence on major search engines such as Google, Yahoo and Bing.
The presentation will also feature a Q&A session with Mr. Flaminio, during which business owners can interact and pose questions, helping them to better understand the growing need for Internet marketing in today's business landscape.
The first event, which is scheduled for Wednesday, June 12 from 2-7 PM, is the 2013 Small Business Expo hosted by the Bronx Chamber of Commerce. The event will be held at the renowned New York Botanical Garden in the Bronx, NY. The expo will feature a large trade show and mega mixer for attendees, in addition to informational sessions.
To register for this event, click here.
On Thursday, June 13 from 6-8 PM, local business owners are invited to attend an educational presentation by DNDS and Popular Community Bank. This free event will be held at the bank's newly renovated Harlem branch, located on 125th Street and Adam Clayton Powell, Jr. Blvd.
Popular Community Bank and the New York Daily News have a long-standing partnership in helping to educate businesses. The Daily News regularly publishes the bank's "Popular Tips", and DNDS is expanding upon their shared educational mission with ongoing informational events such as these.
To register for this event, please contact Shatara at (212)445-1819 or Ana at (212)417-6904.
The last scheduled event for June will take place on Thursday, June 20 from 10:00 AM to 4:30 PM at the New York Marriott in Brooklyn Heights. The NACC Multicultural Business Expo draws an estimated 2,500 business professionals from all over the New York metropolitan area and provides an opportunity for the ethnically diverse business owners and decision makers to network and learn about new products and services.
For more information on the Expo, please click here.
<br>About the company:<br>
Daily News Digital Solutions hosts a comprehensive Internet marketing service in New York and New Jersey that works to organize, establish, and manage the web presence of a variety of clients and businesses in the New York / New Jersey metropolitan area. By utilizing industry-leading techniques and fresh research, Daily News Digital Solutions' Internet marketing services benefit from a cutting edge approach that is dynamic and effective. Customers will see their web presence swell from a campaign that utilizes multiple platforms of Internet marketing including: web design, search engine marketing, search engine optimization, email targeting, press releases, social media, reputation management, mobile and more. Daily News.
Digital Solutions proudly partners with LocalEdge, a Hearst Media Services Company, the premier multi-media company leading the transition to web-based advertising for any size business. LocalEdge has been in business for more than 40 years and services customers nationwide, partnering with leading newspaper brands. When customers count on the experts at Daily News Digital Solutions, they'll have the peace of mind knowing that they're being backed by the best Internet marketing company in New York City with years of experience and expertise with local businesses. Visit their website for more information: http://www.dailynewsdigital.com or visit them on Facebook at http://www.facebook.com/dailynewsdigitalsolutions.