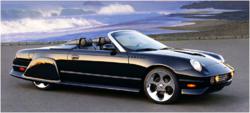 (PRWEB) June 11, 2013
The Powersport, "California Custom" offers a custom show car without body work, allowing Thunderbird owners to choose from a huge variety of custom accessories and body kit add-ons to create their own, one-of-a-kind custom T-Bird.
Powersport's unique body kit items were designed by world-acclaimed former Ford designer, James R. Powers. Mr. Powers, the youngest automotive designer ever assigned to Ford's Advanced Design Studio, created renderings that led to the design of the classic 1961 Thunderbird and 1962-1963 T-Bird Sports Roadsters. Powers also contributed to the design of the classic 1961 Lincoln Continental and created one of the first early concept designs for the original Ford Mustang.
Powersport's array of custom body kit items include custom fender skirts and ground effects, new front fascia, sport hood scoop and the famous 'Roadster Style' Tonneau cover, which features raised headrests and a stylish 'waterfall' drop. Powersport also offers two styles of 'Continental Kits', and classic 'half' skirts.
In addition to the many body kit items, Powersport also offers dozens of Thunderbird trim items including custom dash kit packages, stainless steel side accent trim, rocker panel trim, door handle trim, wheel well 'fender' trim, chrome plated tail light bezels, retro-design 'headlight shades,' reminiscent of the classic 1955-57 Thunderbirds. Other exterior trim items include hardtop protection trim, top door trim, and both billet style and wire mesh custom grilles.
Powersport also carries a wide selection of Thunderbird collectibles including Ford-licensed Thunderbird watches, Thunderbird logo coffee mugs, die-cast Thunderbird scale models, and much, much more. For the true collector, and through special arrangement with Ford Motor Company, Powersport offers OEM factory interior trim packages designed for the 2006 Thunderbird, which was never produced. These are truly one-of-a-kind kits unavailable anywhere else.
Founded in 2002, Powersport is not only the largest supplier exclusively for 2002-2005 Thunderbird accessories, but also the oldest, with over 11 years in business. Browse their website and online store at: http://www.powersportcars.com/, or phone Powersport at 310-589-1000 or 310-234-2600.