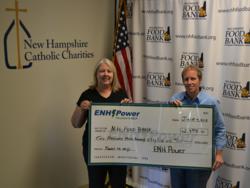 Portsmouth, NH (PRWEB) June 11, 2013
ENH Power recently presented a check to the New Hampshire Food Bank for $2,355 to assist the organization with their efforts to end hunger in New Hampshire. ENH Power gives the New Hampshire Food Bank $5 for each new customer that switches to ENH Power and selects the New Hampshire Food Bank as the local New Hampshire non-profit they'd like to support. 471 people selected the New Hampshire Food Bank.
As part of the Provider Power Family with Electricity Maine, ENH Power's mission is to strengthen community by providing competitive electricity rates on the supply portion of their utility bills while partnering with, and providing resources to non-profit organizations that create positive change in New Hampshire and Maine.
The New Hampshire Food Bank seeks to end hunger by developing programs to help educate registered agencies, rolling out a Mobile Food Pantry, expanding the Cooking MattersR program, and developing their Recipe for Success program. Every year, the Food Bank distributes over 8.5 million pounds of donated, surplus food to more than 400 food pantries, soup kitchens, shelters, day care centers and senior citizen homes. These registered agencies in turn provide the food to over 143,000 different men, women and children throughout New Hampshire each year.