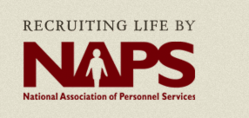 We have more interest in contract staffing every year, so we continue to bolster that track.
Las Vegas, NV (PRWEB) June 12, 2013
As more companies and workers gravitate toward contract staffing, recruiters can learn how to meet their needs at the National Association of Personnel Service's (NAPS) 53rd Annual Conference.
Contract/Temp staffing will be one of the four tracks at the conference, to be held from September 10-13 at The Cosmopolitan of Las Vegas. Recruiters can register now through September 9, with reduced pricing through July 31.
The Contract/Temp Staffing track will include a session by staffing industry veteran and performance coach Amy Bingham, Managing Partner of Bingham Consulting Professionals, LLC. Top Echelon Contracting, a provider of contract staffing back-office services for recruiters, has also been asked to exhibit at the conference, said NAPS President John Sacerdote.
"We have more interest in contract staffing every year, so we continue to bolster that track," Sacerdote said.
This year's conference features a slightly different schedule with the event beginning on a Tuesday rather than Wednesday. The conference will end on Friday, allowing participants to be home by the weekend.
NAPS has also added more opportunities for certification, including a Certification Immersion Class that will allow participants to receive their Certified Personnel Consultant (CPC) and/or Certified Temporary-Staffing Specialist (CTS) certifications. They will also have the opportunity to earn Certified Employee Retention Specialist (CERS) certifications at the conference.
Perhaps the most impressive change for this year is the location. "The Cosmopolitan is the #1 most desirable hotel to be at on the strip," Sacerdote said.
One thing that hasn't changed is the top notch line-up of speakers. NAPS is known for attracting the most sought after speakers in the industry, and this year is no exception. In addition to Bingham, this year's line-up includes Greg Doersching, Rob Mosely, Jeannine Parise, John Walters, Steve Isenberg, and Christine Rice.
Attendees will be able to speak with a number of exhibitors, including Top Echelon Contracting, who were hand-picked to be at the conference. Other exhibitors include Hiring Hook, a complete web design service specifically for the recruiting and staffing industry, and Big Biller, the leader in online recruiting software for applicant tracking.
"This is not a trade show," Sacerdote said. "We limit it to 25 or fewer exhibitors. It's very specific and usually by invitation only, so the exhibitors who will be there are very relevant. Our attendees want to talk to people who will actually help them with what they are doing. Our business partners/allied members are businesses that provide cutting edge tools."
But what really draws attendees to the NAPS conference are the networking opportunities, Sacerdote said. Recruiters like being able to discuss their ideas and challenges with other recruiters.
"We want the whole conference to maintain the close knit atmosphere it is known for," he said, adding that they are expecting 500 recruiters at the conference. "We love it when we have manageable classes."
About NAPS: Since 1961, the National Association of Personnel Services has built a reputation as being the educator for the executive search and staffing industry. NAPS has achieved this not only through its annual recruitment conference, but also through its certification program and its emphasis on continuing education within the industry.
About Top Echelon Contracting: Known as the recruiter's back-office solution, Top Echelon® Contracting, Inc. (TEC), helps recruiters offer contract staffing to clients and candidates. TEC, which was established in 1992, becomes the legal employer of the contractors, handling all of the contractor paperwork, legal contracts, timesheet collection, payroll processing and funding, tax withholding, benefits, Workers' Compensation, invoicing, collection of accounts receivables, background checks, etc. Based in Canton, Ohio, TEC specializes in technical, professional, and healthcare contract placements and does business in 49 states.