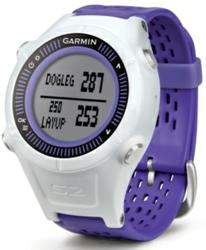 The real differences over the S1 Approach are digital score keeping, computer scorecard review and unlimited course worldwide with free lifetime updates
Bozeman, MT (PRWEB) June 11, 2013
The new Garmin S2 Approach GPS golf watch is now available at the Heart Rate Watch Company.
SCORE KEEPING, DISTANCE TO HAZARDS and UNLIMITED COURSES
"The real differences over the S1 Approach are digital score keeping, computer scorecard review and unlimited course worldwide with free lifetime updates," says Rusty Squire, President of the Heart Rate Watch Company. He adds, "The S2 Approach women's watch also comes in a nice looking lilac and white color."
The preloaded golf course maps are also worldwide courses on the S2 Approach, whereas the S1 had just U.S. and Canadian courses.
"These are nice improvements but if you want the touchscreen pin relocation for all greens for targeting approach shots then you'll still need to get the Garmin S3 Approach," says Squire.
FEATURES
The Garmin S2 Approach comes loaded with more than 30,000 worldwide courses, plus layup and dogleg distances. "The yardage to the front back and middle of each green is also very helpful for approach shots," says Squire.
"The digital scorecard makes these Garmin golf watches makes it very easy to refer to previous scorecards and compare scores from different days and courses," says Squire.
The Garmin S2 Approach is ideally suited to golfer's who want better data and prefer not to carry around a more cumbersome, and less accessible, handheld device according to Squire. He adds, "It really is a sweet product for data and good data drives better decisions on shots and club selection."