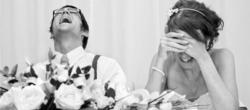 Let's talk about finances, baby!

It just doesn't have the same ring to it, does it?
Cleveland, OH (PRWEB) June 13, 2013
Couples have a strong desire to tell the "how we met" story. They get good at it and perfect it over many telling. Others get so good at it that they become really funny toasts or best man speeches at weddings. However, not every couple is willing to discuss the more important things – like finances.
In a recent article from The Huffington Post, it was found that more than half of newly engaged couples do not want to discuss finances with their fiancé. Most couples described the act as "awkward" and worried the discussion would likely lead to a fight. Some were worried that talk would lead to learning about financial secrets and a portion of those polled thought it would even lead to calling off the wedding.
"That discussion sounds really dry and boring," said Laugh Staff consultant Kali Fencl. "But the fact is, I would rather hear about it through my fiancé instead of hearing it in a joke in a best man speech AFTER the ceremony."
The Huffington Post suggested that couples should set aside some time to have a serious talk about finances. They even said one person could be the spender and one could be the saver. In this day and age, couples can choose to share their money or keep their own accounts. However, they also warned couples not to hide income or debt.
"I think that my fiancée and I would more likely have a fight over who gets to be the spender," said Laugh Staff co-founder Cameron Amigo. "It's a precursor to the 'good cop/bad cop discussion when we decide to have kids."
So while cakes are tasted, reservations are made, and funny best man speeches are written, couples need to sit down at some point and have a serious discussion on their financial future. Being partners includes being in the know about the important things, not just who's coming over to play Apples to Apples.
For more information about Laugh Staff Inc. and their speech writing services visit http://www.laughstaff.com or email info(at)laughstaff(dot)com.
About Laugh Staff:
Laugh Staff, Inc. was founded in 2012 by a team of comedians and writers in Cleveland, Ohio. Laugh Staff helps their clients with best man speeches as well as providing best man speech examplesbest man speech examples on their blog. They assist best men and maids of honor in speech-editing, speech writing, and provide training on speech delivery. Recognizing the importance of the big day, Laugh Staff's professional comedians work with best men and maids of honor to ensure they make a lasting impression.