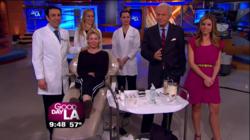 Los Angeles, CA (PRWEB) June 11, 2013
In the ongoing battle to preserve the appearance of youth, women (and some men) will spend hundreds of dollars on a wide array of anti-aging products. Many of these products claim to fight the signs of aging. However, according to a June 4, 2013 Fox News article titled "Sunscreen Slows Skin Aging, Study Shows," simply applying sunscreen daily can do wonders to prevent the visible signs of aging (Go to goo.gl/DTIqc).
"An ounce of prevention really is worth a pound of cure," says Dr. Simon Ourian, Medical Director of Epione Beverly Hills. "I can't say that I'm at all surprised by the results of the study. I've been recommending daily sunscreen use for many years."
According to the article, between 1992 and 1996, a study of 900 men and women from Australia showed some remarkable results regarding photo-aging. Photo-aging caused by the sun's UV rays often leads to wrinkles, slack and coarse skin, higher levels of dryness, and increased visibility of blood vessels in the facial area. All of these are associated with the aging process but it turns out that the sun may be the bigger culprit.
The article goes on to say that the adults in the above-mentioned test group (all below 55 years of age) were split into two groups, one of which was asked to apply sunscreen regularly. This group was required to apply the lotion before and after swimming, heavy exercising, or tanning. The second group was permitted to use sunscreen as and when they saw fit – or not at all, if that was their preference. At the conclusion of the study, the participants who used sunscreen on a daily basis were show to be 24% less likely to display premature signs of aging.
"Until recently, it was assumed that sunscreen only offered protection against the immediate effects of sun exposure such as sunburn," says Dr. Ourian. "There is now concrete evidence demonstrating that sunscreen with SPF 15 or higher can protect against the visible signs of aging."
Dr. Ourian has been a pioneer in laser technology and non-invasive aesthetic procedures including Restylane, Juvéderm, Radiesse and Sculptra. These treatments are used for the correction or reversal of a variety of conditions such as acne, acne scars, skin discoloration, wrinkles, stretch marks, varicose veins, cellulite, and others. More information about the ability of sunscreen to prevent photo-aging can be found on Epione's website.