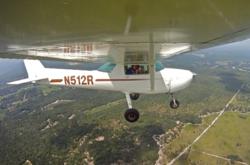 Because A Good Pilot Is Always Learning" - Jason Schappert
Ocala, FL (PRWEB) June 12, 2013
With over 4 hours of video and actual landing analysis, "The Secret To Perfect Landings" takes you along for the ride with bestseller author and 2008 top collegiate flight instructor Jason Schappert of MzeroA.com.
Follow Jason through the traffic pattern as he shares tips from his 8,000 hours of flight instruction experience. Inside the book Jason shows you how to perfect normal, crosswind, short field, and soft field landings, each with a video to help our visual learners.
Purchasing Jason's book is easy. Visit http://secrettoperfectlandings.com/ and choose option 1 or option 2. You can purchase outright or find out how to get the system for free. Investing in the course is investing in your future and safety as a pilot.
About the Author:
Jason Schappert is a full-time flight instructor and dedicated aviation enthusiast based in Ocala, Florida. He was named Top Collegiate Flight Instructor at NIFA 2008, an event sponsored by AOPA. Jason also is the creator of MzeroA.com and the author of 8 bestselling aviation books. His video blog reaches hundreds of thousands of pilots every month, helping them accomplish their dream of learning to fly.