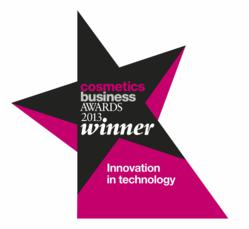 It fits perfectly with the trend for more animation at the point of sale and will set a precedent with what can be done to improve the consumer experience in store: Emma Reinhold, Editor of Cosmetics Business
REGENSDORF, Switzerland (PRWEB) June 13, 2013
Cosmetics Business last week named X-Rite, Incorporated as the winner of its 2013 Technology award for the introduction of a digital device used in retail settings to help customers precisely select cosmetics that accurately match their skin tones.
After beta testing and an initial rollout last year, the CAPSURE technology is being used in the Match Made Service offered in more than 890 Boots UK stores globally to help customers select the closest color match among the No7 Foundation collection to their skin tones.
The technology also is being used by the French cosmetics company Sephora in its Sephora + PANTONE Color IQ system of matching skin tones with foundation colors. After a successful trial test of the system last summer in New York City and its North American headquarters of San Francisco, the company expects to roll out the system to its more than 300 retail locations in the United States and Canada this year. A wholly owned subsidiary of X-Rite, Pantone licensed the exclusive use of the PANTONE Skin Tones library for use in CAPSURE at Sephora.
"This is a good looking device that has a clear commercial application," said Emma Reinhold, Editor of Cosmetics Business and Soap, Perfumery & Cosmetics (SPC) magazine and one of the 10 expert judges that assessed submissions for the award. "It fits perfectly with the trend for more animation at the point of sale and will set a precedent with what can be done to improve the consumer experience in store." Owned by HPCi Media Ltd. in London, Cosmetics Business delivers the latest information on the global personal care market through the web, email newsletters and events, along with its print magazines SPC, European Cosmetic Markets (ECM), Cosmetics International (CI) and Cosmetics News Weekly (CNW).
The inaugural Cosmetics Business Innovation Awards celebrates dynamism in the industry by honoring companies in four major and two special categories. The Cosmetics Business panel selected 13 winners from a field of more than 150 entries that Reinhold said were outstanding examples of work in the personal care industry. This year's event was held June 6 at the London Film Museum, where X-Rite Vice President EMEA Sales and Marketing Manager, Channels and Retail Francesco Tomasello represented the company in accepting its award.
"We are very honored to receive this recognition from Cosmetics Business," Tomasello said. "CAPSURE represents a significant investment by X-Rite in a solution to a universal problem of personal color matching in cosmetics, and we think the device already is making selection of foundations fun again for customers, rather than a frustrating experience. It's gratifying that the panel of judges saw the value of the instrument in increasing customer satisfaction in cosmetics selection."
CAPSURE is an easy-to-use spectrocolorimeter that identifies the color of a customer's skin in seconds, then precisely targets the closest matches among a library of color palettes loaded into its memory.
Early market research by Boots UK indicated that 78 percent of women in the United Kingdom would change their foundation if they could find a better color match, and tests of the CAPSURE technology showed customers were very satisfied with its accurate color matching capabilities.
Joanne Watson, Innovation Technologist at Boots UK, said early trials of the system showed that women appreciated the experience of having their skin tones measured with a sensitive instrument that could give more accurate and objective color readings, no longer relying on in-store lighting conditions. The device shows a digital photo of a person's skin, and the foundation color that is the closest match.
Boots UK selected the device from X-Rite because it provided a robust method of color measurement and was easy for advisors to use and keep on their person, Watson said.
Matthew Adby, X-Rite Product/Market Manager who oversaw the European introduction of the device, said X-Rite engineers customized aspects of the device's firmware to handle some of the unique challenges of measuring a person's skin accurately. He said they had to take into consideration the translucent nature of skin, its texture and variations in color in a small measurement area.
The device employs proprietary camera technology that illuminates the skin from three different directions while simultaneously recording 27 color-accurate images within 2 seconds, eliminating the shadows and interference inherent to textured surfaces. With 8 different visible illuminations and 1 ultraviolet illumination, the instrument is able to more accurately define the location of a skin tone in color space than traditional colorimeters that typically have only three illuminations of red, green and blue light.
"Using an instrument of this quality really resonates with our customers," Watson said. "It takes the guesswork out of trying to find a shade since there is so much choice in the market now."
Sales advisors who use the CAPSURE technology like its compact size and light weight that allows them to wear the instrument around their necks if they wish. The device is powered by a lithium ion battery that lasts through a whole day of measuring customers before it needs recharging.
About X-Rite
X-Rite incorporated with its wholly owned subsidiary Pantone LLC is the global leader in color science and technology. The company develops, manufactures, markets and supports innovative color solutions through measurement systems, software, color standards and services. X-Rite's expertise in inspiring, selecting, measuring, formulating, communicating and matching color helps users get color right the first time and every time, which translates to better quality and reduced costs. X-Rite serves a range of industries, including printing, packaging, photography, graphic design, video, automotive, plastics, paint, textiles, dental and medical.
About Pantone
Pantone LLC has been the world's color authority for nearly 50 years, providing design professionals with products and services for the colorful exploration and expression of creativity. Always a source for color inspiration, Pantone also offers paint and designer-inspired products and services for consumers. More information is available at http://www.pantone.com.
©2013 X-Rite, Inc. All rights reserved. X-Rite is a registered trademark of X-Rite, Inc. All other trademarks are the property of their respective owners. PANTONE® and other Pantone trademarks are the property of Pantone LLC. © 2013. All rights reserved.