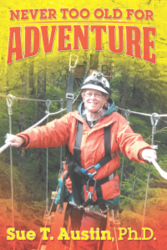 (The book) describes the adventures Austin had with both old friends and new ones as she traversed the North American continent.
TAMPA, Fla. –
(PRWEB) June 12, 2013 -- A 40th high school reunion and subsequent trip to North Carolina, coupled with a need for change, inspire an almost 60-year-old to embark on an unforgettable journey. Following in the footsteps of her parents, who have been to all 50 states in the country and all U.S. territories, as well as more than 100 countries around the world, Sue Austin decides to visit all 50 U.S. states and takes just four months to do so. This new book details the experiences she had flying and driving across the country, taking in its natural and manmade wonders.
"Never Too Old for Adventure" describes the adventures Austin had with both old friends and new ones as she traversed the North American continent. One of her first trips – to Alaska – proves Austin is adept at sleeping anywhere since she turned her laptop bag into a pillow at the Seattle-Tacoma airport while waiting for her morning flight. Beautiful landscapes, eagles and humpback whales confirm Alaska's wild beauty. Austin actively engages during her trips, booking adventures like a buggy ride in the Oregon dunes, ride on the Great Dipper rollercoaster at Belmont Park, parasailing excursion in Florida, ride on a submersible Eco-Scooter in Hawaii, a hike in the White Mountains of New Hampshire and zipline courses in seven states.
Among the experiences Austin details are the cliff swallows of San Juan Capistrano, Colonial Williamsburg, Potomac River tour, Clippership sail in New York City, Cape Cod Bay, Plymouth Rock (a nod to Austin's four direct descendants who sailed on the Mayflower), Badlands National Park in South Dakota, Devils Tower in Wyoming, Old Faithful geyser in Yellowstone National Park, Grand Canyon and Waikiki Beach. She saves money on souvenirs by buying T-shirts at thrift shops for places she planned to see. Thanks to her flexibility about accommodations – sleeping in her car, staying with friends and family and using vouchers from Groupon and Living Social – Austin saved thousands of dollars on her trip, inspiring anyone with an eye for deals and an adventurous spirit to plan his or her own journey.
Author Sue Austin is no stranger to adventure. Austin, who earned a Ph.D. in religion in 2008, began traveling in 2011 after realizing life can be short. She retired in 2012 to travel full time. Austin was born in Tampa and lived there for nearly 30 years before buying 10 wooded acres in Tallahassee. She worked as a computer programmer, computer consultant, designed websites, and began an online book business. She has two sons.
----------
For additional information, please visit http://www.SueAustin.com.
Never Too Old for Adventure
Sue Austin
Dog Ear Publishing
ISBN: 978-1-4575-1930-7 184 pages $19.95 US
Available at Ingram, Amazon.com, Barnes & Noble and fine bookstores everywhere.
About Dog Ear Publishing, LLC
Dog Ear Publishing offers completely customized self-publishing services for independent authors. We provide cost-effective, fast, and highly profitable services to publish and distribute independently published books. Our book publishing and distribution services reach worldwide. Dog Ear authors retain all rights and complete creative control throughout the entire self-publishing process. Self-publishing services are available globally at http://www.dogearpublishing.net and from our offices in Indianapolis.
Dog Ear Publishing – self-publishing that actually makes sense.