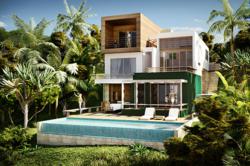 The average house price in Rio de Janeiro has risen by 189% since the beginning of 2008, and rental growth is up by 129% over the same period.
Poole, Dorset (PRWEB UK) 12 June 2013
Now the 7th largest economy in the world, Brazil is channelling its new wealth into real estate. With rising population figures and demand for property, house prices are escalating rapidly.
Rio de Janeiro may have suffered in previous decades – it lost its capital city status as well as the stock exchange. However the decline has been reversing as a result of recent governmental changes. Tougher policing has reduced crime in the city, and as a result adjoining neighbourhoods have experienced rapidly increasing house prices.
The average house price in Rio de Janeiro has risen by 189% since the beginning of 2008, and rental growth is up by 129% over the same period.
Now, riding the crest of the wave, Rio de Janeiro is receiving significant investment into the city's infrastructure in the run up to the 2016 Olympic Games. Such large-scale global events are positioning Rio as arguably one of the premier cities in Latin America and investors are looking to purchase prime real estate in Rio to benefit from current market conditions and massive growth potential.
With the market in Brazil developing fast, more international and domestic investors are particularly attracted to urban areas like Rio due to the relative ease of purchasing in the country. Overseas nationals can buy Freehold, without restriction, and international investors can purchase freely in Brazil, as long as they hold a tax number from the Government.
Economic growth and wealth creation alongside increasing mortgage availability and easing credit conditions have resulted in a booming housing market, making Brazil an extremely attractive investment proposition.
Select Resorts are currently offering for sale a number of prime plots on a 5* resort development just 1 hour from Rio de Janeiro. Once built, the properties on this gated resort will benefit from sweeping sea, land or mountain views, 24-hour security and luxury facilities such as a spa, fitness centre, bars, restaurants retail shops and mini markets.
To find out more about investing in Rio de Janeiro Real Estate, please click here.
About Select Resorts
Anyone looking to invest funds into property or land abroad should contact Select Resorts. A well-established company with over 30 years' experience in the industry, the dedicated and passionate team offer the service one would expect from a company giving expert advice on a vast range of international property areas to assist in reaching more profound decisions on purchasing overseas property and land.
The only UK based associate of Savills International and a member of the AIPP (Association of International Property Professionals), Select Resorts offer in-depth knowledge and experience to meet the needs of overseas real estate investors. Buyers can invest safe in the knowledge full and thorough due diligence has been undertaken on all projects offered for sale.