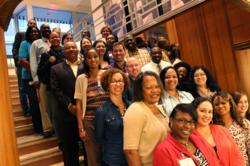 Greensboro, NC (PRWEB) June 11, 2013
The Foundation received over 100 applications for this fellowship opportunity. The Minority Fellowship Program Advisory Council (MFPAC), chaired by Dr. Sandra Lopez-Baez, selected 24 of these applicants to receive the fellowship award. These fellows meet and exceed the eligibility requirements of the program by holding the National Certified Counselor (NCC) credential, being matriculated in a CACREP-accredited doctoral program, demonstrating knowledge of and experience with racially and ethnically diverse populations, and committing to providing mental health and substance abuse services to underserved minority populations. This first cohort of fellows will work with Foundation staff, the MFPAC and mentors to achieve the goal of the program. Fellows include Ophelia Blackwell, Kansas State University; Matthew Bonner, Old Dominion University; Claudette Brown-Smythe, Syracuse University; Myrsane Caze, Mercer University; Jennifer Cook, Virginia Polytechnic Institute and State University; Robert Cox, University of Memphis; Fulani Doughty, Argosy University Sarasota; David Ford, Old Dominion University; Crystal Burwell Gatling, North Carolina State University; Tiffany Hairston, University of Toledo; Katherine Heimsch, Old Dominion University; Robert Horne, North Carolina State University; Camille Humes, Governors State University; Kimberly Jenkins-Richardson, University of Alabama; J. Richelle Joe, College of William & Mary; Michael Jones, Regent University; Asha McAdory, Auburn University; Uberto Mondolfi, Capella University; Tamia Randolph-Alvarez, University of New Orleans; Ajita Robinson, George Washington University; Beverly Sargent, Loyola University; Angelica Tello, University of Texas at San Antonio; Rebecca Vazquez, Regent University; and Tanya Willson, Barry University.
The NBCC MFP is made possible by a grant awarded to NBCC by the Substance Abuse and Mental Health Services Administration (SAMHSA) in August 2012. The Foundation is contracted by NBCC to administer the NBCC MFP, as well as training and collaboration activities that will be open to all National Certified Counselors. The goal of the program is to strengthen the infrastructure that engages diverse individuals in counseling and increases the number of professional counselors providing effective, culturally competent services to underserved populations.
The Foundation plans to open the next NBCC MFP application period in December. To learn more about the NBCC MFP and its fellows, please visit http://www.nbccf.org/mfp.
About the NBCC Foundation
The NBCC Foundation is an affiliate of the National Board for Certified Counselors (NBCC), based in Greensboro, North Carolina. NBCC is the nation's premier professional certification board devoted to credentialing counselors who meet standards for the general and specialty practices of professional counseling. Currently, there are more than 52,000 National Certified Counselors in the United States and more than 50 countries.