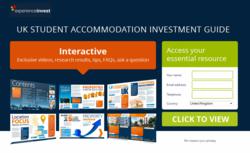 "Student housing is top property asset," - FT, Nov 2012
(PRWEB) June 13, 2013
With over 800 individual student rooms sold, Experience Invest is one of the UK's leading agents marketing and selling student property investments. The company has published a new, interactive Student Property Investment Guide, which is packed full of information about investing in the UK's top performing asset class.
According to Knight Frank's industry experts student property in the UK outperformed every other commercial property class by delivering consistent returns over the past few years. Student property continues to provide investors with stronger yields when compared to more traditional investments, with a growing number of investors now buying into projects within the sector.
CBRE have reported that a record £2.7 Billion was invested in UK student property transactions during 2012. Some of the driving factors behind this investment are the rising demand for good quality student accommodation from overseas and domestic students combined with the lack of available university funding to actually build the required accommodation themselves.
Experience Invest's free online Student Property Investment Guide, provides investors with a wealth of information about the sector and offers informed and researched advice about how to get the most out of a student property investment in the UK.
After researching within the due diligence and criteria guidelines set out by Experience Invest at a number of key cities and towns across the UK which it considers suitable locations for student property investment. Speaking about the UK's top locations for investment, Business Development Manager at Experience Invest, Jerald Solis commented:
"Knowledge economies outside of London offer investors a lower entry level into lucrative investments where the locations of these projects offer higher yields for investors."
To discover these sought after locations, simply visit the website to access the UK Student Property Investment Guide.
From investment tips to interactive online polls and research results, from news to the latest high-yielding opportunities, Experience Invest's Student Property Investment Guide will provide investors with an in-depth insight into the sector and contains useful tips about how to generate a passive monthly income from the UK student property investment market.