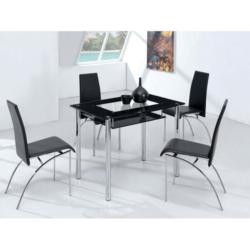 (PRWEB UK) 18 June 2013
New i.D Interiors is well known for creating, designing, and delivering beautiful interiors for all settings and the company has chosen the Rimini dining table and chairs to augment these themes. FurnitureInFashion offers the most innovative designs in dining table sets and maintains an extensive range of dining room furniture. Being one of the largest suppliers of dining room furniture in the country, FurnitureInFashion has been contacted by many interior design companies and New i.D Interiors has been one of the many companies to finalize a deal with FurnitureInFashion.
New i.D Interiors is a design company, delivering beautiful interiors for investment properties, private clients, and show-homes. The company offers bespoke collections of products and services tailored specifically to meet every element of a project.
The company provides key furniture ranges to create great value furniture packages, ideal for the investor looking to furnish properties. The company bought the Rimini dining table and chairs for their show-homes. The design team of New i.D Interiors develops innovative and inspirational home concepts to create the maximum impact on the customer. A spokesperson FOR New i.D Interiors said, "New i.D Interiors believes in giving the ultimate in style and innovation in the home experience. Our team of designers keeps a close eye on different furniture suppliers in order to buy the best furniture for show-homes and our other interior requirements. Over the past few years, FurnitureInFashion has gained immense popularity due to its innovative designs and durable furniture. The company offers exactly the kind of furniture that compliments modern design concepts. The Rimini dining table and chairs have helped enhance the overall look of one of our show-homes, as this range has a classic, sleek design and an elegant aura."
The ultra-modern Rimini large black glass dining table has been given a very stylish finish with a clear-glass top and black border to protect from dirt and damage. The dining table has an under-shelf for storage purposes. The dining table has chrome legs providing a secure sturdy base. This table comes with four comfortable black dining chairs. The Rimini dining table and chairs have been designed to provide maximum comfort in the dining experience. The Rimini dining table's dimensions are 135cm long, with a depth of 80cm, and a height of 75cm. The chairs are 44cm long, with a depth of 43cm, and a height of 105cm. The Rimini dining table range is available at affordable prices.
The Managing Director and CEO of FurnitureInFashion said, "FurnitureInFashion is thrilled at being chosen by New i.D Interiors for their interior design concepts. Working with them will give FurnitureInFashion a great platform to showcase its products. FurnitureInFashion is expecting to become a regular supplier of New i.D Interiors and this will allow us to market our products in a unique way. The show-homes presented by New i.D Interiors allow customers to actually experience every product and that will eventually benefit FurnitureInFashion."
To have a look at quality affordable dining tables online and to place a pre-stock order, please visit the company website today at http://www.furnitureinfashion.net. The range of dining tables on the website is huge, delivery is fast, savings are massive and quality is guaranteed.
About FurnitureInFashion
FurnitureInFashion is a UK-based online retail business. It supplies furniture items from its German-based warehouse and has a showroom in Bolton, UK. The company provides everything from umbrella stands, wall art and room dividers, to bedroom suites, bar stools, and computer tables. FurnitureInFashion offers free delivery within the UK and is rightly proud of its excellent customer service. For further information and details about sales, please visit http://www.furnitureinfashion.net